---
First Snow at Walter Reed, Week 296, December 17, 2010
December 19, 2010 | Kburi


Posted on 12/19/2010 5:26:16 AM PST by kburi

After last winter's record snowfall, we regard Thursday's dusting as a practice snow just to get us in shape. It would insult a ruler to even measure it.

Mrs. Trooprally was under the weather which meant Trooprally was the photo taker tonight. Not a bad effort, but he'd rather be on the corner holding the flag.

Margaret – the Administrative Volunteer at Aleethia Foundation which is responsible for the Friday Night dinners for the Wounded Warriors sent Mr. and Mrs. Trooprally an email earlier Friday.

It reads in part:

" Looks like another cold night....We've been busy getting hoodie sweatshirts, jackets and knit hats (but the guys still are stubborn with the caps) for the service members... so many show up for the buses on Friday night with just sweat tops or double shirts... many say their medicine keeps them warm... I just shake my head!

Anyway, Aleethia's dinner tonight is being hosted by the British Ambassador at his residence...so it probably be late when the buses return.

Keep warm! Thanks again for being there... you guys are true Patriots and I know the guys appreciate the support.

By the way, here is a link to a recent news story...3 of the four Marines attend the Friday night dinners and I have personally got to know them and they are awesome!

http://www.cbsnews.com/stories/2010/12/15/eveningnews/main7153753.shtml?tag=stack

Merry Christmas and a very Happy New Year to you both and your families!

Warm regards,

Margaret"

Next Friday is Christmas Eve, and The DC Chapter wants to wish all Wounded Warriors, their families, and all of the organizations and individuals supporting the troops, a very Merry Christmas.

Tonight's dinner did run late and we don't have a picture of the bus returning.

HONOR ROLL for December 17, 2010

Trooprally, TammyCat and Idaho, Lurker Bill, RonGKirby, CindyTrueSupporter and BufordP

FOOTNOTES

• There was no moonbat news tonight.

The DC Chapter invites you to join us every Friday night between the hours of 6:30pm to approximately 9:30pm.
---

If you can't get to D.C. to join us but would like to do something for the wounded, you can find a wealth of ideas by FReepmailing Tom the Redhunter, Cindy-True-Supporter, VAFlagwaver, or PleaDeal. Directions to our Walter Reed freep location from the Takoma metro station

BufordP's Walter Reed FReep archive

December 17, 2010 Photos, (courtesy of Trooprally)

BufordP and CindyTrueSupporter
Lurker Bill
RonGKirby - This Marine always stands Tall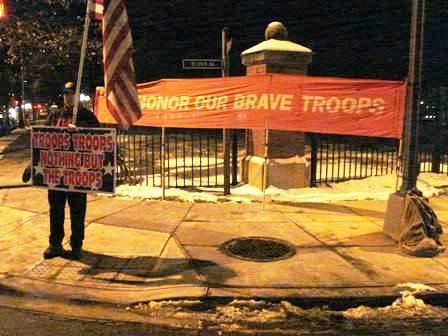 TammyCat and Idaho
---
TOPICS: Activism/Chapters; Free Republic; US: Maryland; US: Virginia
KEYWORDS: aar; globalcooling; military; rally; walterreed
---
---
---
---
---
---
---
---
---
---
---
---
---
---