---
Alastair Campbell diaries: The shaping of a war leader
guardian.co.uk ^ | January 14, 2011 | Alastair Campbell


Posted on 01/19/2011 3:59:18 AM PST by Ravnagora

As Tony Blair's press secretary, Alastair Campbell was at the heart of events in the early years of Blair's premiership, when conflicts with Iraq and Serbia dominated foreign affairs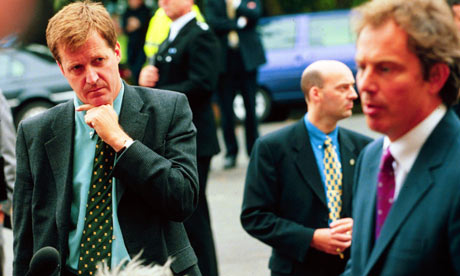 Alastair Campbell looks on as Tony Blair makes a point in 1998, the first full year of his decade as prime minister. The diary extracts cover events from 1997-1999. Photograph: Jeremy Sutton Hibbert/Rex Features
The first tentative steps towards the most controversial event of Tony Blair's premiership – the 2003 invasion of Iraq – were taken during the period covered in these diaries. In late 1998 Blair sanctioned his first bombing mission as prime minister – a four-day campaign from 16-19 December 1998 against Iraq over Saddam Hussein's failure to co-operate with UN weapons inspectors. In the spring of 1999 he was the driving force behind the Nato mission to expel Serb forces from Kosovo, the first example of what became known as "liberal interventionism".
1998
Saturday 18 April Saudi Arabia We were taken to a ludicrously sumptuous room to wait for the Crown Prince Abdullah. On Iraq, Abdullah said they loved the Iraqi people – they are our brothers. TB [Tony Blair] said we would not threaten the territorial integrity of Iraq. TB said there was always a danger that Saddam would exploit lack of progress in the Middle East.
Wednesday 16 December [first day of bombing] TB was clearly having a bit of a wobble. He said he had been reading the Bible last night, as he often did when the really big decisions were on, and he had read something about John the Baptist and Herod which had caused him to rethink, albeit not change his mind.
*****

(Excerpt) Read more at guardian.co.uk ...
---
TOPICS: Foreign Affairs; News/Current Events
KEYWORDS: blair; iraq; nato; serbia



---
FreeRepublic.com is powered by software copyright 2000-2008 John Robinson