---
DC Chapterís Four Corner Offense started 5 years ago on January 20, 2006! Week 301,January 21, 2011
1/25/11 | Kburi


Posted on 01/25/2011 8:25:20 AM PST by kburi

January 21, 2011 Notes

Tonight, January 21, 2011 was bitterly cold due mainly to the wind. Cold weather gear was the uniform of the day. The full moon was beautiful and the cold kept the crazies away.
Soldiers were paying attention to us. At one point, when the 82nd Airborne flag was prominently displayed, a soldier pulled over and yelled "where's the 101st Airborne flag?" Ok, we will add the 101st Airborne flag to Flag Row.
The bus returned late as there was a program in addition to their dinner for the wounded warriors.




Below are excerpts from two AAR's written in January and early February 2006, which recount the DC Chapter's takeover of all four corners of Walter Reed's front gate.
Not only are some members still active on Friday nights, but also Freepers, who posted in those early days, still post.

Code Pink Retreats from Walter Reed-Freepers Win! (Week 40 Report)

Posted on Friday, January 20, 2006 7:50:58 PM by armymarinemom
I just received a phone call from Kristinn!! The DC Chapter of Protest Warriors obtained a permit for Code Pink's side of the street today after the Pinko's forgot to renew their permit. The blood dancers tried to stick it out for about 20-25 minutes before they tucked tail and retreated a block away to the closed entrance. Freepers and Protest Warriors now have all four corners outside the main entrance to WRAMC!
Armymarinemom's after action report generated one of the largest responses to any WR after action report.

In one week, 1,586 Freepers posted comments on this stunning takeover, orchestrated by ConcreteBob of the Protest Warriors and Free Republic, and over 31,200 members viewed the AAR!

tgsltakoma's 2/16/06 After Action Report, week 43 summed up the importance of the DC Chapter's presence on all 4 corners of the front gates of Walter Reed.

Posted on Thursday, February 16, 2006 3:02:43 PM by tgslTakoma

Now that we own all four corners, there is no doubt in the minds of passers-by as to what side we are on - and the horn honks and shouts of support for our troops, and thank you's to us for being there, are overwhelming! And when the cars drive by the new mid-block location for Code Pink? Nary a toot is sent their way. Word is getting around inside the hospital that the lefties are no longer out front with their demoralizing signs and anti-America attitudes; and the wounded troops are venturing outside the gate nowadays. This week saw even more Walter Reed patients coming out to talk to us and thank us for being there. While standing alongside us out on the sidewalk, they see and hear for themselves what the media won't report - that the majority of Americans do support them and their mission. It's a lot nicer now to stand on our four corners - we can focus our message solely on support of the troops.
________________________________________
The DC Chapter of Free Republic has maintained a continuous Friday night presence on all four corners since then.
Our mission continues to be supporting our troops, our Wounded Warriors and their families, and standing against those who would hurt our troops.
Announcement: All of you who are coming to DC to attend CPAC, please make plans to visit us on Friday night. Don't forget to dress warmly.
Moonburst!
HONOR ROLL for January 21, 2011
Mr. and Mrs Trooprally, CindyTrueSupporter, VictoryNY, Fraxinus, Lurker Bill, TammyCat and Idaho, Kburi and RonGKirby
FOOTNOTES
The DC Chapter invites you to join us every Friday night between the hours of 6:30pm to approximately 9:30pm.
---

If you can't get to D.C. to join us but would like to do something for the wounded, you can find a wealth of ideas by FReepmailing Tom the Redhunter, Cindy-True-Supporter, VAFlagwaver, or PleaDeal. Directions to our Walter Reed freep location from the Takoma metro station

BufordP's Walter Reed FReep archive

January 21, 2011 Photos, (courtesy of Mrs. Trooprally)

VictoryNY and Tammycat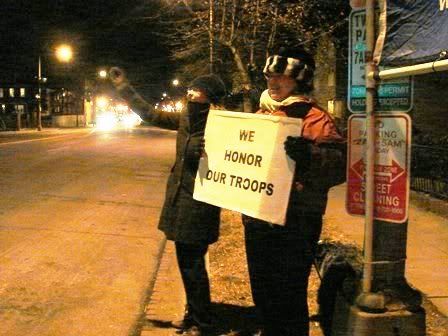 Trooprally and Fraxinus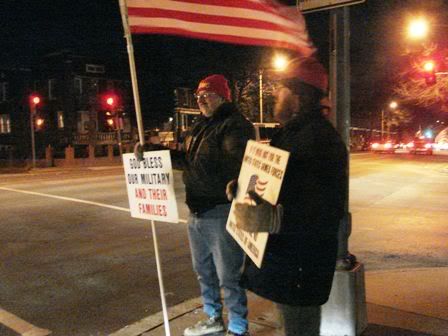 Lurker Bill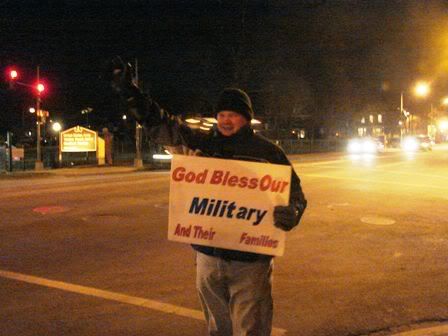 CindyTrue Supporter and Kburi
RonGKirby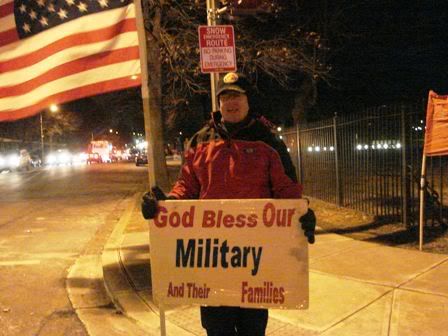 Spectacular Full Moon, Rising from the east
---
TOPICS: Activism/Chapters; Free Republic; US: Maryland; US: Virginia
KEYWORDS: aar; military; rally; walterreed
---
Navigation: use the links below to view more comments.
first 1-20, 21-31 next last
---
---
---
---
---
---
---
---
---
---
---
---
---
---
---
---
---
---
---
---
---
Navigation: use the links below to view more comments.
first 1-20, 21-31 next last
---
---