---
To: Ohioan from Florida; Goodgirlinred; Miss Behave; cyn; AlwaysFree; amdgmary; angelwings49; ...
President Ronald Wilson Reagan
Birthday Centennial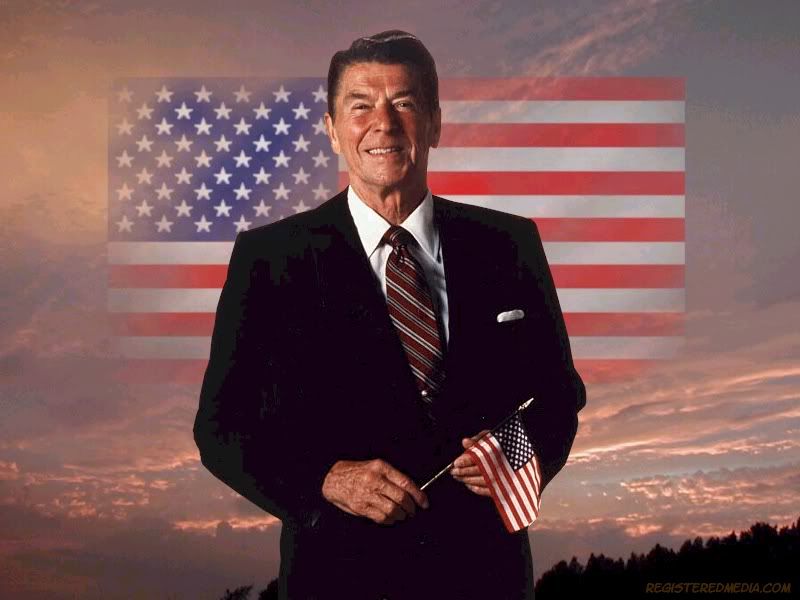 ...Standing on the tiny deck of the Arabella in 1630 off the Massachusetts coast, John Winthrop said, "We will be as a city upon a hill. The eyes of all people are upon us, so that if we deal falsely with our God in this work we have undertaken and so cause Him to withdraw His present help from us, we shall be made a story and a byword throughout the world." Well, we have not dealt falsely with our God, even if He is temporarily suspended from the classroom.
~snip~
Somehow America has bred a kindliness into our people unmatched anywhere, as has been pointed out in that best-selling record by a Canadian journalist. We are not a sick society. A sick society could not produce the men that set foot on the moon, or who are now circling the earth above us in the Skylab. A sick society bereft of morality and courage did not produce the men who went through those years of torture and captivity in Vietnam. Where did we find such men? They are typical of this land as the Founding Fathers were typical. We found them in our streets, in the offices, the shops and the working places of our country and on the farms.
We cannot escape our destiny, nor should we try to do so. The leadership of the free world was thrust upon us two centuries ago in that little hall of Philadelphia. In the days following World War II, when the economic strength and power of America was all that stood between the world and the return to the dark ages, Pope Pius XII said, "The American people have a great genius for splendid and unselfish actions. Into the hands of America God has placed the destinies of an afflicted mankind."
We are indeed, and we are today, the last best hope of man on earth.
-- January 25, 1974

27
posted on
02/06/2011 2:51:55 PM PST
by
wagglebee
("A political party cannot be all things to all people." -- Ronald Reagan, 3/1/75)
---
To: wagglebee
Thanks for that beautiful picture and speech of President Ronald Reagan.
28
posted on
02/06/2011 2:57:11 PM PST
by
Sun
(Pray that God sends us good leaders. Please say a prayer now.)
---
To: wagglebee
---
FreeRepublic.com is powered by software copyright 2000-2008 John Robinson