---
To: trumandogz
Actually, Paul gives a long list of wrongdoers who won't enter the Kingdom of God. Homosexual acts are just one of the items on the list, not singled out as particularly or uniquely sinful. Right in the middle of the list, in fact.
"Do you not know that wrongdoers will not inherit the kingdom of God? Do not be deceived! Fornicators, idolaters, adulterers, male prostitutes, sodomites, thieves, the greedy, drunkards, revilers, robbers—none of these will inherit the kingdom of God."
Exile all fornicators, adulterers, greedy people, drunkards and revilers and you'll have really thinned out the average church. :)
---
To: Sherman Logan
When a man repents of the sin— is it blotted out? If a man continues in sin-after he has been forgiven -has he made the word of G-d false? OR does he earn the titles you suggest if
exiled would thin the population of most churches. This is why any pew warmer ought pay some attention to his/her congregation-to exort the truth to others and to edify the
Gospel in them.In Christ we are a new Creation.If we repent and choose to continue in sin after we have been forgiven the error /sin -is our own- and we cannot blame our Savior.
---
To: Sherman Logan
Actually, Paul gives a long list of wrongdoers who won't enter the Kingdom...
And what does Scripture say about "proud sinners" Sherman? You know, those that MOCK Jesus in their festivals with contests like the "Hunky Jesus" contest: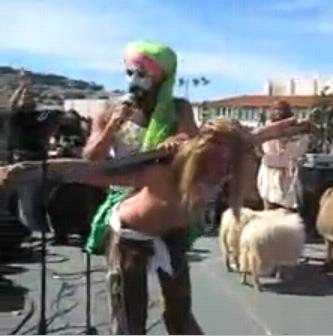 Link to Hunky Jesus Contest
How about sinners that march in the streets by the hundreds of thousands in the name of "pride", and even go so far as to change God ordained institutions such as marriage and the family?
God has a special place in Hell for "proud" unrepentent sinners Sherman.

45
posted on
02/19/2011 9:07:27 AM PST
by
aSeattleConservative
("...the American Christian ... would rather die on his feet, than live on his knees!" G. Washington)
---
To: Sherman Logan
Exile all fornicators, adulterers, greedy people, drunkards and revilers and you'll have really thinned out the average church. :)

Not quite. Exile all those who celebrate and are proud of their fornication, adultery, greed, drunkenness, and reviling and have turned it into an alternative lifestyle and you change almost nothing.

Everyone I know is a sinner. Few people I know are proud of their sins. Only one group I can think of has chosen to define themselves by their sins and make their sin a cornerstone of their identity.

55
posted on
02/19/2011 12:45:37 PM PST
by
Antoninus
(The slogan for the 2012 election: Better a known enemy than a false friend. Say no to Romney.)
---
To: Sherman Logan; trumandogz
Does God consider the sin of homosexuality to be worse than the sin of fornication among heterosexuals?
Answer
Categorically, no, and I will tell you why. Because when you have any listing of sins in the Scripture, for example, in 1 Corinthians, chapter 6, he says, in verse 9, "Do not be deceived. Neither fornicators, nor idolaters, nor adulterers, nor homosexuals, nor sodomites, nor thieves, nor covetous, nor drunkards, nor revilers, nor extortioners will inherit the kingdom of God" [1 Corinthians 6:9-10]. Categorically, you have got everything in the same list. Probably when you compare sodomites to homosexuals, some would say that homosexuals could refer to what were called Catomites, those who submitted to homosexuals, maybe the younger boy who submits to the pedophile—that kind of thing, so you have two different terms used for homosexual activity. Some would even use those words to refer to people like transvestites or what they are called today "transgender" people. But when you look at a list like that you see that they are all outside the kingdom. So categorically they are all in the same situation—they are defined by their sin. Verse 11, then says, "and such were some of you," so, the point being, that those are all sins that are characteristic of people outside the kingdom, but they are all forgivable—right?—because, "such were some of you." He's saying to the Corinthian church, "you know, that list is a list of what you used to be and some of you were here, and some of you were here, and some of you were here, and so forth." So, if it is true that that sin along with many others defines life outside the kingdom, but that that sin is forgivable, then in that sense it is no worse a sin than any other.
Having said that, I would say, however, that when you look at Romans, chapter one, and you have to look at Romans, chapter one to understand this: When "the wrath of God (in verse 18) is revealed from heaven against all ungodliness..." The "wrath of God" follows a sequence. In Romans, chapter one, you look first of all at verse 24, and here is the defining of God's wrath—let me kind of sum this up for you. You read Romans 1:18 about "the wrath of God" and we say, "Ok, 'the wrath of God,' what are you talking about? Well, there are five kinds of wrath:
1. There is Eternal Wrath - That's Hell.
2. There is, I guess what we could call, Eschatological Wrath, or the wrath of the last days. The wrath described in Revelation 6-19, all the Seal Judgments, Trumpet Judgments, Bowl Judgments—the final wrath. So there is Eternal Wrath, there is Eschatological Wrath.
3. There is also, what I could call, Cataclysmic Wrath: the flood; the destruction of Sodom and Gomorrah; the destruction of the cities of the plain; the destruction of Capernaum; the judgment of God on Korazin, Bethsaida—and in history God has judged whole civilizations through cataclysms that took unbelieving people and catapulted them into eternity, such as Pompeii, which was a city literally notorious for its vice. So you have Eternal Wrath, you have Eschatological Wrath, you have Cataclysmic Wrath.
4. Then you have, what I would call, Natural Wrath. That is the wrath of God that comes in a sowing and reaping fashion. If you are a drunkard all your life, you may die of cirrhosis of the liver; if you live in sexual sin all your life you may shorten your life and die of some venereal disease including AIDS. So there are certain things built-in, "Whatever a man sows he reaps," that's another kind of wrath. But the wrath being spoken of here is the fifth kind.
5. It is the Wrath of Abandonment. It is that judicial act of God whereby He lets the sinner go. In other words, He stops convicting, He stops calling, it's Genesis six, where God says, "My Spirit will not always strive with man." There comes a point when God says, "That's it—I'm letting you go." And when God lets a society go, verse 24 says, "He gives them over to uncleanness"—that's sexual sin. Then verse 26, "He gives them up to vile passions, and women exchange the natural use for what is against nature. Likewise also the men, leaving the natural use of the woman, burned in their lust for one another, men with men committing what is shameful." So you have lesbianism and homosexuality. When God gives a society up they plunge into sexual sin and then they sink deeper into homosexual sin.
So while homosexuality is a forgivable sin, and categorically no worse than others, when it happens on a societal level, it is evidence that when a society affirms it, when it becomes normal in a society, that is evidence that God has turned that society over. If you look at America you can look back to the sexual revolution of the 60's, which has now become a homosexual revolution of the 90's in which the homosexuals have redefined themselves as a minority, like a racial group of people demanding rights. So I think as far as individual sin goes no more damning than the other sin and as forgivable as any other sin. When it becomes the pattern of a society it is evidence that God has turned that society over to that sin, it may be at that point an evidence that many in that society are not redeemable because they have gone past the "age of grace."
http://www.biblebb.com/files/macqa/70-18-2.htm
67
posted on
02/19/2011 6:00:52 PM PST
by
aSeattleConservative
("...the American Christian ... would rather die on his feet, than live on his knees!" G. Washington)
---
FreeRepublic.com is powered by software copyright 2000-2008 John Robinson