---
Video of Vigilante Destroying Memorial for Gangster in Retaliation of Mob Attack on Fox Reporter
ChicoER Gate ^ | 2/22/10 | Chuck Wolk


Posted on 02/22/2011 4:25:10 PM PST by OneVike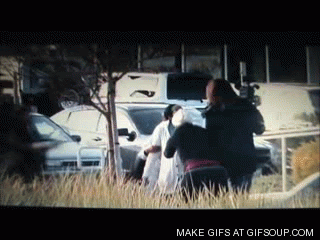 It looks like the gangbangers who made a small memorial in front of the IHOP on Advantage Way in Sacramento where was murdered have nad their memorial destroyed by a motorcycle vigilante. This past Sunday FOX 40 reporter John Lobertini and camerawoman Rebecca Little were assaulted by friends and relatives of a gangbanger shot after an altercation took place between him and another gangbanger inside IHOP. The murdered banger was 27-year-old Chester Jackson, and the reporters were there to interview some people who may have been able to shed some more light an incident that is becoming all too familiar in Sacramento.

I would have thought the police would have looked at the video and arrested anyone they could identify as to have attacked the reporters. Police say charges in the Lobertini-Little incident can only be pursued if one of the reporters files an official citizen's complaint. That does not seem to be going down to well with everyone because this afternoon a drive-by motorcyclist vandalized the makeshift memorial. Later the cyclist sent the email below to the FOX 40 KTLX station with an explanation for his action.


I just want it to be known that this wasn't some sort of gang-retaliation. It was because of the scum that attacked your reporters and nothing was-has been done. And I will keep doing it until they are arrested.

If you wish to see the video of the attack on the reporter and the video of the motorcyclist destroying the gangbangers memorial, follow the link below,

Vigilante Destroying Memorial for Gangster plus the Attack on Reporter

---
TOPICS: Crime/Corruption; Culture/Society; Extended News; News/Current Events; US: California
KEYWORDS: foxnews; gangsters; mob; sacramento
---
Navigation: use the links below to view more comments.
first 1-20, 21-40, 41-60, 61-62 next last
---
---
---
---
---
---
---
---
---
---
---
---
---
---
---
---
---
---
Comment #18 Removed by Moderator
---
Comment #19 Removed by Moderator
---
---
Navigation: use the links below to view more comments.
first 1-20, 21-40, 41-60, 61-62 next last
---
---