---
Sharia Law Supporters: 1 - PATRIOTIC CONSTITUTION SUPPORTERS: 150, March 03,2011
March 4,2011


Posted on 03/04/2011 1:06:09 PM PST by trooprally

I arrived around noon, but patriots in support of the United States Constitution have been gathering since 10AM. Around 9:30AM, 630 WMAL, a local conservative radio station reported that the Sharia Law supporters had canceled their rally. Security concerns were mentioned in addition to insufficient SL supporters. But we stayed to continue our rally.

If you want to hear to radical Anjem Choudary spew his reason for the cancellation, click HERE. Be aware that you go to his web site.

Reports I heard from before I arrived were that a handful of Sharia Law supporters arrived, saw our gathering of supporters and left the area.

On the threads about today's event, several posters questioned whether the radical Sharia Law supporters were going to be there since they had not yet obtained a permit for Lafayette Park. Remembering that Glenn Beck did not receive his permit until a week before his huge event, a smaller event as this could easily be issued quickly.

And even without a permit, they could have gathered as a small group. The slime media would report the small crowd as a revolution, giving them hours of air time. I have watched the news on various stations and nothing. But that is expected. No of our group said anything to the slimes that could be used to ridicule us. Facts and well thought out opinions are not what the slimes are looking for.

I think for the first time the patriots had the reporters all to ourselves. The biased media had no one else to interview and we accommodated them. Several patriots made impromptu speeches within the confines of Lafayette Park where the Sharia Law supporters were supposed to be.

The patriots came from near and far, a biker prayer group from NC, FReeper Bevperl from Chicago, a couple from New York, and the Koran burner Terry Jones and his group. NOTE: Tthe words "Stand Up America" is being associated with Jones but he is in no way associated with of MG Paul E. Vallely, US Army (Ret), Stand Up America organization established in 2005.

A brief narrative and good read by WO4Man is HERE and his favorite picture is HERE. Note that at no time did our group place a hand on the Muslim. More on this below.

WO4Man's photo file HERE.

And then we had pictures. Pictures are by WO4Man (BLUE outlined pics) and [Mrs] Trooprally.

BELOW LEFT: Early gathering of patriots. BELOW RIGHT: And we keep gathering!

BELOW LEFT: WO4Man, RongKirby and lady from Virginia. BELOW RIGHT: Bevperl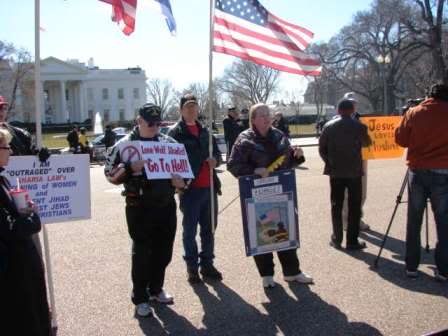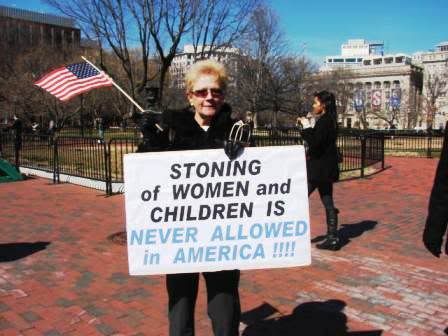 BELOW LEFT: Captain America with supporters coming down Pennsylvania Avenue BELOW RIGHT: Showing our colors in front of White House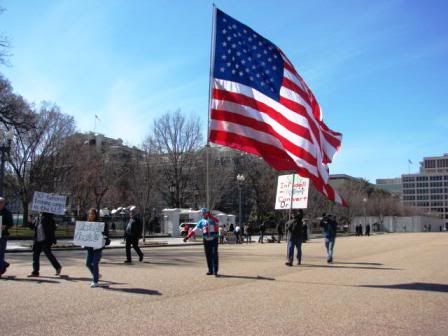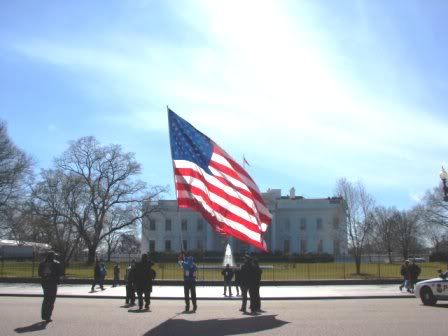 BELOW LEFT: Folding of flag since Park Police does not allow anything, even the U.S. flag to rest on Park property. The flag was leaning against a tree. BELOW RIGHT: Captain America talking to reporters.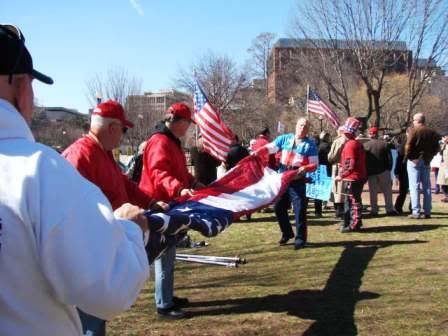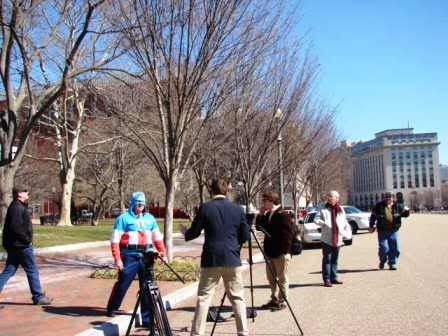 BELOW LEFT: Some signs BELOW RIGHT: And more signs. RongKirby with flag and Cindy_True_Supporter to his left, listening to one of our speakers. There were about 5 speakers, one wearing a NYC fire department helmit.
BELOW LEFT: Me with my dual flag. Curiously, a well dressed man stood next to me watching our rally in apparent approval. He had an un-lit cigar and I asked if he needed a light. NO he said. He had to get back to work. I asked if he worked close by, and he said very close. As he turned to walked away he said, Help is on its way. Interesting. BELOW RIGHT: Another Israeli supporter. We had several Jews thank us for being there. One couple was visiting from Israel.
The next couple of pictures of our actions got mixed review from our group. Several patriots were concerned that our actions will make the anti-Sharia Law movement look bad and will garner reprisals.
But the way I look at it, if a Christian or Jew publicly prayed in Iran, they would at best be put in jail, at worst they would be murdered. The below Muslim is using the freedoms guaranteed by the U.S. Constitution against us. According to the Supreme Court, even the Westboro "Baptist" Church anti-military a$$hats have freedom of speech.
I have to add, at no time did we threaten the Muslim. At no time was a hand physically placed on the Muslim. At worst we annoyed him.
If today's events were a dry run by radical Anjem Choudary to see how much blow back there would be from Americans, we definitely showed our resolve in a firm, non-threatening but determined way.
BELOW LEFT: Muslim praying while several evangelical Christians pray over him. BELOW RIGHT: Me standing on the east side of the Muslim, in the crowd on the pics' right. Basically the Muslim was praying to the Israeli and U.S. flags.
BELOW LEFT: Some of the evangelical Christians placed crosses in front of the Muslim. This was the only time the Muslim seemed annoyed. BELOW RIGHT: While the Muslim was praying, the NC biker prayer group unfolded Captain America's flag and stood between the Muslim and the While House.
Short video of the Muslim starting his prayers. You can hear us loudly chanting "USA - USA" and singing a patriotic song. As mentioned by WO4Man in his narrative, our group also said the Our Father and Hail Mary, and sang more patriotic songs. WO4Man is standing behind Muslim with sign.
As Cindy_True_Supporter's signs said - SHARIA LAW IS INCOMPATIBLE WITH U.S. CONSTITUTION

---
TOPICS: Activism/Chapters; Breaking News; Free Republic; News/Current Events; US: District of Columbia; US: Maryland; US: Virginia
KEYWORDS: aar; anjemchoudary; choudary; christians; crushislam; islam; jimmyqaeda2; mask0f0bama; muslim; obama; palin; patriotism; shariah; sharialaw; victory911mosque; washingtondc
---
Navigation: use the links below to view more comments.
first 1-20, 21-40, 41-60, 61-71 next last
---
---
---
---
---
---
---
---
---
---
---
---
---
---
---
---
---
---
---
---
---
Navigation: use the links below to view more comments.
first 1-20, 21-40, 41-60, 61-71 next last
---
---