---
A Big Support The Troops Rally Tonight! Walter Reed - Week 309, March 18, 2011
March 20, 2011 | Kburi


Posted on 03/20/2011 8:08:33 PM PDT by kburi

Because of the Anti-war protest starting today at Walter Reed and ending Sunday at Quantico, we expected a number of anti-war protesters at Walter Reed Tonight. It didn't happen. However, over 40 people including Freepers, Republic of Iraq representatives, Guardian Eagles, Combat Veterans Motorcycle Association, visitors and wounded warriors participated in tonight's rally.
The rally was lively and filled with a strong sense of camaraderie.

The evening started with LTC Fred Peterson making comments about the importance of Supporting the Troops. He then introduced the Honorable Wrya Saeed Rwandzi, Senior Advisor to the President, Republic of Iraq. Mr. Rwandzi said Iraq's President conveyed Iraq's gratitude for what American soldiers had sacrificed for their country's liberation and freedom. The video by WO4Man captures his short talk, and also gives the reader a feel for actually being at the front gate, hearing the honks, seeing the ambulance turn into Walter Reed and being there when the buses return from dinner. We write about it each week, but WO4Man's video provides the flavor.

WO4Man's video of last night (3/18/11) at Walter Reed's rally:




http://www.youtube.com/watch?v=arOxCI8QZHc




We were honored to be joined by Sam, LTC, a wounded warrior suffering from Post Traumatic Stress Disorder. She spent the entire evening with us and we convey all the best wishes for her recovery. ConcreteBob was in high spirits! ConcreteBob was responsible for securing a permit for all four corners almost 6 years ago! This kicked Code Pink and their ilk, way down the block and away from the Walter Reed front gate. It's always good to see Uncle Jimbo of Blackfive. Check out Blackfive for a short video right before the Friday night rally.



Many who attended tonight will be at the White House to join others counter protesting the leftist Veterans Peace Rally and Action.
For the first time in weeks, we had great weather, clear, in the low 70's, and No wind, which meant the MOAB (Mother Of All Banners) was back in action. With all four corners fully manned, the passing cars, trucks and buses kept up a loud affirmation of Support the Troops with their honks and waves.
Let us not forget the Wounded Warriors who arrived in the two large ambulances during our stay. It quiets down when as the ambulance turns into Walter Reed and silent prayers are said.
Two buses with wounded warriors returned tonight and were met by over 40 enthusiastic flag- waving, sign-holding Americans who support them and their families.

Again, we all thank Aleethia Foundation for coordinating the Friday night dinners and the restaurants who provide the meals,


PrezUSA222 and ConcreteBob

Trooprally, LTC Peterson, interpreter and the Honorable Wrya Saeed Rwandzi, Senior Advisor to the President, Republic of Iraq.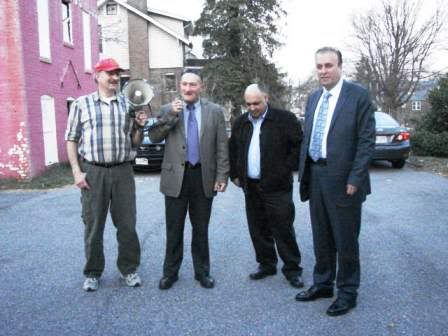 ---
The DC Chapter of Free Republic thanks all who joined us last night at Walter Reed. (see below) It was a great beginning to three days of counter – rallies against the Anti-Military, anti-America leftist Veterans for Peace Rally and Action demonstrators.
Visitors on March 18, 2011


Bev Perlson (Band of Mothers); LTC Fred Peterson ( Guardian Eagles); the Honorable Wrya Saeed Rwandzi - Senior Advisor to the President of Iraq and interpreter; Sam ( LTC, a wounded warrior); Uncle Jimbo (Blackfive); Susankatzkeating (Virginia and blogger extraodinaire); Lisa (Woodbridge, Va); Luke Petrino, Walter,Ted and Paul (all from the Combat Veterans Motorcycle Association, Ohio); Tim, Bruce and Garth ( New Jersey); Fred (Delaware); Bill Steiner (Pennsylvania -Steiner exposed the Shanksville Flight 93 Memorial as a fraud containing islamic symbols and structures); Andrea from NJ and Daniella from NY (sophomores at George Washington University); John and Roger from Connecticut; Provi (Rhode Island National Guard, but lives in nearby Maryland); and….Jim ( Quantico);

The countdown to the 6th Year Anniversary, or 312 consecutive Friday nights at Walter Reed, is infull swing. On April 8, week 312, we will be remembering all of the Freepers and patriotic groups who have made this support for the wounded warriors possible. Several attendees tonight said they would be back on the 8th. And please note, if you can't come on the 8th, please come when you can.





---
Announcement of 6th Year Anniversary at Walter Reed (April 8, 2011):


On April 8, 2011, The DC Chapter of Free Republic will complete 6 years, or 312 consecutive Friday nights, at the Front Gates of Walter Reed. We invite all those Freepers who were here at the beginning, or those who have joined us periodically to join us on that night.
Without them, and there were many, we wouldn't have been able to make this strong statement of support for the wounded warriors and their families. We also invite all the visitors who have stopped by to also join us.
---

Announcements:
Lurker Bill put this video of slides together from the first three years of The DC Chapter of Free Republic's Friday rallies. Many familiar faces and memories of all the visitors.
THIS IS A MUST SEE VIDEO by DCPW1776
HONOR ROLL for March 11, 2011
ConcreteBob, Mr and Mrs Trooprally, ToleranceSucksRocks, CindyTrueSupporter, Lurker Bill, RonGKirby, Fraxinus, Tammycat(and Idaho), TomTheRedhunter; Chief, GunsAreOK, PrezUSA222, TJ, WO4Man, RLmorel and Kburi.
---
Moonbat News

Twelve moonbats for the evening. There was at least one veteran who joined them. He walked up and spent some time talking with Uncle Jimbo and several others. Nothing confrontational.

---
FOOTNOTES
The DC Chapter invites you to join us every Friday night between the hours of 6:30pm to approximately 9:30pm.
---

If you can't get to D.C. to join us but would like to do something for the wounded, you can find a wealth of ideas by FReepmailing Tom the Redhunter, Cindy-True-Supporter, VAFlagwaver, or PleaDeal. Directions to our Walter Reed freep location from the Takoma metro station

BufordP's Walter Reed FReep archive



---
March 18, 2011, Photos, (courtesy of Mrs. Trooprally)
Bev Perlson, Luke, Bill Steiner talking with CindyTrueSupporter

ConcreteBob and Uncle Jimbo calmly talking to Iraq Veteran Against the War
Bruce, Tim and Garth from NJ
RLmorel (holding sign) from Massachusetts, Brought Greetings from Veeram and CDfinger, who couldn't make this trip.
Lisa and ToleranceSucksRocks
BufordP and GunAreOK
TomtheRedhunter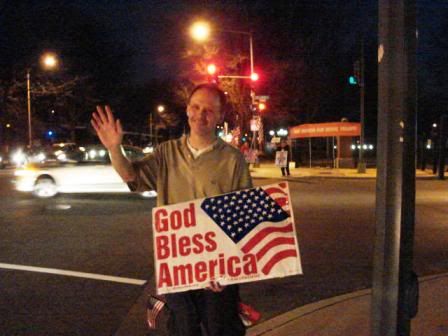 Lurker Bill and TammyCat
Jim from Quantico
After the bus – A Group Picture in front of the MOAB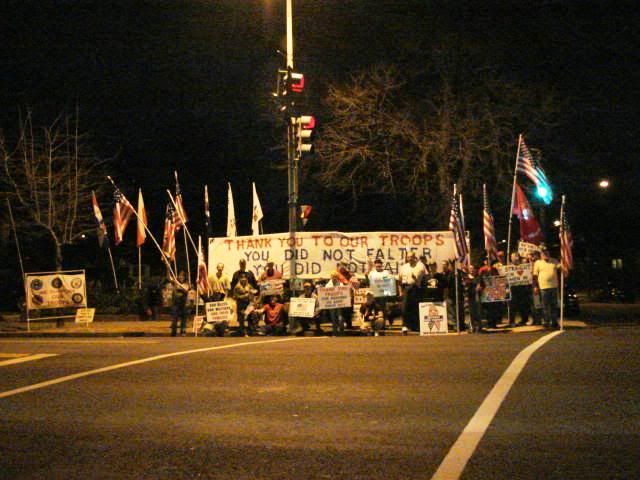 Both Buses Return To Large Crowd
---
TOPICS: Activism/Chapters; Free Republic; US: Maryland; US: Virginia
KEYWORDS: aar; military; moonbats; walterreed
---
Navigation: use the links below to view more comments.
first previous 1-20, 21 last
---
To: AGreatPer
You are welcome. But don't forget to pat yourself on the back for all your support at WR. It may be not a frequent now, but in the past you have stood with us many times.
[Mr] T
21
posted on
03/27/2011 10:33:10 AM PDT
by
trooprally
(Never Give Up - Never Give In - Remember Our Troops)
---
Navigation: use the links below to view more comments.
first previous 1-20, 21 last
---
---
FreeRepublic.com is powered by software copyright 2000-2008 John Robinson