---
To: UCFRoadWarrior
Haitians are told they are going to get housing, they are going to get water, so the Haitians don't do much for themselves living in camps, in tents with crime, rapes etc
---
To: All
And those here who generously gave to Haiti, all the school children who sent their nickles and dimes...and you read a headline that says:
Haiti: When Will Rebuilding Began?
How do you feel?
Even after you were promised it would go to the people of Haiti, the children, the rebuilding of homes for those who had nothing before and even less today ............. Remember the builder in Florida who employed Haitian workers and offered to build homes from Shipping Containers?
The Toronto builder, who offered to construct plastic homes expected to cost less, be stronger, and more environment-friendly - GREEN even!!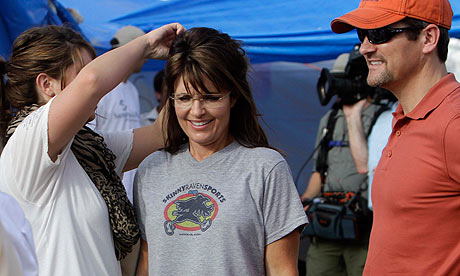 Sarah Palin gets her hair fixed during a visit to a cholera treatment centre in Haiti. Photograph: Dieu Nalio Chery/AP
Sarah Palin visits crisis-hit Haiti:
Sarah Palin says residents of refugee camp 'are so full of joy', during visit tightly stage-managed by Christian relief group.
Samaritan's Purse has been accused during other humanitarian crises of putting its evangelical mission ahead of more tangible assistance to those in need. The organisation raises large sums of money from US Christians but the proceeds are not always visible on the ground.
During the 1994 Rwandan refugee crisis, Samaritan's Purse was criticised by other aid organisations for spending large amounts on luxury accommodation for its staff and providing only minimal assistance as tens of thousands of people died of cholera. That assistance principally consisted of sending stretcher bearers to carry the sick for treatment as a third person ran alongside the victim reading passages from the Bible. More.
Feel Used Yet???

---
FreeRepublic.com is powered by software copyright 2000-2008 John Robinson