---
To: EternalVigilance; Gilbo_3; hiredhand; Squantos; DoughtyOne; stephenjohnbanker; Impy; mkjessup; ...
Thanks for posting EV.
Today is April 19. Patriot's Day. "Shot Heard Round The World" Day. A day that lives in infamy to Libs, and one they've tried hard to erase, discount, and smear.
Captain John Parker, veteran Indian fighter, 42 years old, dying of tuberculosis, who nevertheless did his duty: "Stand your ground. Don't fire unless fired upon. But if they mean to have a war, let it begin here."
So we never forget. The first American Revolution started over Gun Control. We CANNOT stress that enough.
Let that be a lesson to all modern wannabes.
Molon Labe is the Greek term – "Come and Take Them". Leonidas of Sparta's response to Xerxes messenger, at Thermopylae (the Hot Gates), when the demand was given to the Spartans to lay down their arms and surrender.
There are STILL Americans out here. And that response remains the same.
For further reading - "The Day the American Revolution Began: 19 April 1775" by William H. Hallahan. Worth the read.

---
To: NFHale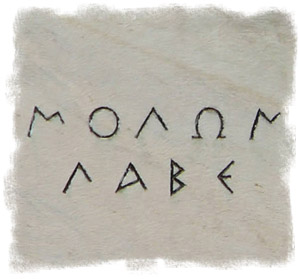 17
posted on
04/19/2011 9:12:55 AM PDT
by
EternalVigilance
(The epitaph of the GOP: They were even less principled than Donald Trump.)
---
To: NFHale
---
To: NFHale
35
posted on
04/20/2011 8:15:36 PM PDT
by
April Lexington
(Study the Constitution so you know what they are taking away!)
---
FreeRepublic.com is powered by software copyright 2000-2008 John Robinson