---
State retiree benefits gap grows to $1.26 trillion (not including unfunded health care)
CNN ^ | April 26, 2011 | Tami Luhbi


Posted on 04/26/2011 3:07:39 AM PDT by Zakeet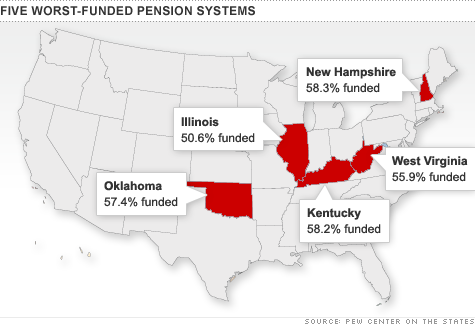 States are $1.26 trillion in the hole when it comes to their pension and retiree health obligations, according to a report released Tuesday.
And taxpayers are ultimately on the hook for this shortfall, which soared 26% in one year.
The Great Recession has wreaked havoc on states' pension and retiree health systems, the Pew Center on the States found. The report covers fiscal year 2009, which began July 1, 2008 in most states.
States are largely responsible for this predicament. As tax revenues plummeted, many skipped part or all of their annual retiree benefits contributions as they struggled to pay for education, Medicaid and other services.
"Far too many states have not responsibly managed the cost of retirement benefits, effectively running up the price for taxpayers," said Susan Urahn, the Pew Center's managing director.
States only contributed a total of 64% of the nearly $115 billion their actuaries recommended they put in their pension funds for that year, the center said. They now face a $660 billion gap in these accounts.
[Snip]
The retiree health funding picture is even more dire. States face a total liability of $635 billion, but have set aside only $31 billion, the study showed. Two states -- Alaska and Ohio -- account for 62% of the money reserved for these benefits.
While retiree health coverage is easier to scale back than pension promises, it could pose a bigger problem in the future. That's because the burden is expected to balloon as the Baby Boomers retire and health care costs skyrocket.
[Snip]
Adding to states' troubles is the level of investment return they include in their pension calculations. They typically assume an average annual return of about 8%, but some experts are arguing this is too high.

(Excerpt) Read more at money.cnn.com ...
---
TOPICS: Business/Economy; Government; News/Current Events
KEYWORDS: economy; goonions; goonionthugs; pensions; states
---
---
---
---
---
---
---
---
---
---