---
To: Iscool
Anybody got a picture???
As far as I know, no pictures of OBL's corpse have been released. No proof of his death has been released. But I offer the following pictures, which I've never shared online before. I took these shots of the World Trade Center when I was a young person growing up in the NYC metro area.
This first one, circa 1970, is from the Jersey City shore looking across the Hudson at the Twin Towers under construction. North Tower is the one further along, I believe. You can also see the venerable old Woolworth Building in the left background. Nice contrast, because in its day, the Woolworth was the tallest building in the world.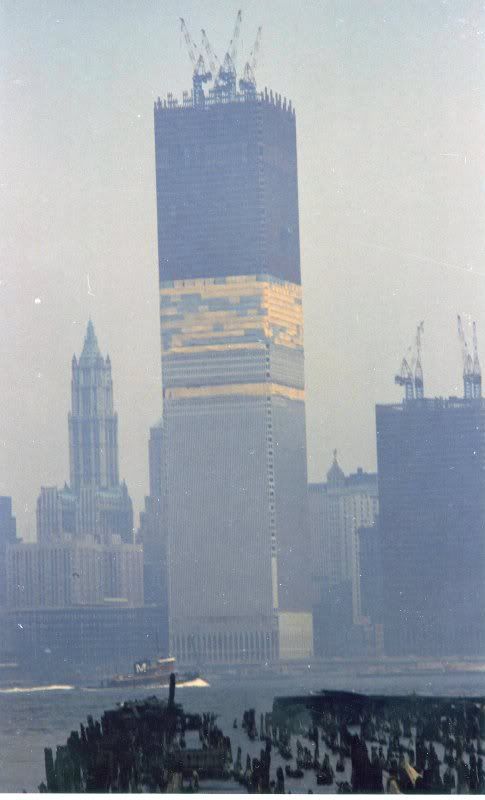 Also circa 1970, I took this picture at dusk from the observation deck of the then tallest building in the world, the Empire State Building.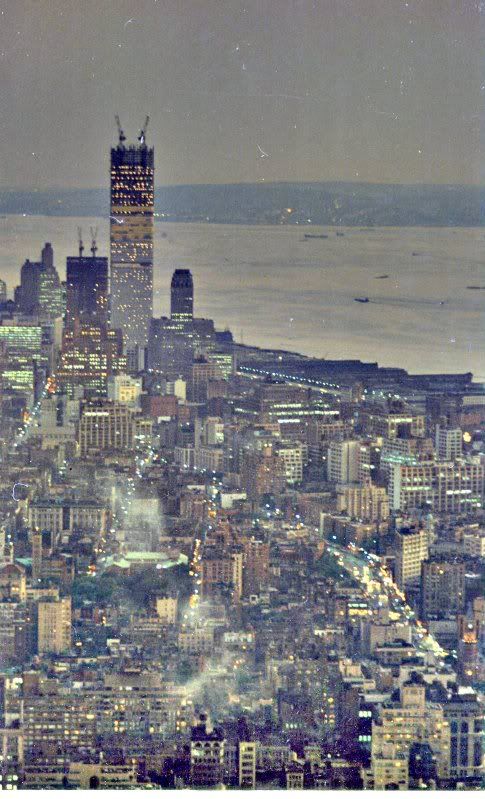 I took this shot from somewhere out in Port Jersey, July 4, 1976, the Bicentennial Celebration of the Declaration of Independence. The towers were complete, new, shiny and, in their own blocky way, beautiful.
It hurts my heart to look back and remember. I hate Islamofacists for what they did. Osama bin Laden deserves not the slightest modicum of respect in death. I spit on him and all his kind.

28
posted on
05/01/2011 10:58:00 PM PDT
by
Wolfstar
("If you would win a man to your cause, first convince him that you are his friend." Abraham Lincoln)
---
To: Wolfstar
I was living in Newark and used to look across and see the towers going up every day('70-'71) then I got taken in THE LAST draft! Sworn in Dec 1, 1971. Six days later, Prez Nixon declared the end of the draft.
"Can I go home, then?" I stupidly asked my drill sergeant. That question cost me a lot of pushups.
41
posted on
05/01/2011 11:57:47 PM PDT
by
cookcounty
(Eric Holder, Head of the Department of JUST-US.)
---
To: Wolfstar
Hi Wolfstar....thanks for the great photos....I have them saved...
and condolences to you for your loss.

47
posted on
05/02/2011 1:32:54 AM PDT
by
spokeshave
(Obamas approval ratings are so low, Kenyans are accusing him of being born in the USA.)
---
To: Wolfstar
Nice pictures...
I can't imagine growing up in a large City...I grew up in fields, forests, lakes and streams...What a contrast...
---
To: Wolfstar
Beautiful photos, Wolfstar. I grew up in NYC and I too remember watching the building of the WTC. My reaction is the same as yours, every time I see an old photo of them or fly into NY and look down at the site and see what those animals did to us. Real grief.
---
FreeRepublic.com is powered by software copyright 2000-2008 John Robinson