---
To: Dengar01
Maybe they misunderstood the county ordinance.
Please note that County Ordinance "requires that each primary structure shall display a house number. A house number shall not be displayed containing numbers less than 3 inches (7.62 centimeters) in height. It shall be visible from the roadway named in the address, and all house numbers shall be in Arabic numerals."

84
posted on
05/03/2011 7:30:01 PM PDT
by
smokingfrog
( sleep with one eye open ( <o> ---)
---
To: smokingfrog
Arabic numbers are what we use in the US. Confusingly, Arabs use Indian or Indic numbers, and they write them left to right (like we do in the west) even though they write everything else right to left.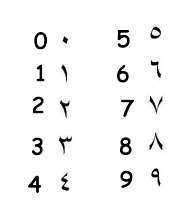 Their numbering system is actually quite easy (our's first):
- A zero is a zero, only collapsed
- A one is a one and a nine is a nine
- A two is a backwards seven
- A three a three, except it's turned 90 degrees clockwise and set on a stick
- A four is a backwards three
- A five is a zero
- A six is a seven
- A seven is a Roman numeral five
- An eight is an upside down Roman numeral five.
See, quite simple! -

---
FreeRepublic.com is powered by software copyright 2000-2008 John Robinson