---
Apache helicopters to be sent into Libya by Britain
The Guardian ^ | Monday 23 May 2011 | Richard Norton-Taylor


Posted on 05/23/2011 5:14:11 PM PDT by MinorityRepublican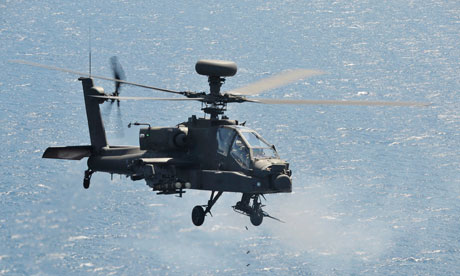 The UK is to send helicopters to Libya following similar announcements by France.
Britain and France are to deploy attack helicopters against Libya in an attempt to break the military stalemate, particularly in the important coastal city of Misrata, security sources have told the Guardian.
In a significant escalation of the conflict, the Apaches – based on HMS Ocean – will join French helicopters in risky operations which reflect deepening frustration among British and French defence chiefs about their continuing inability to protect civilians.
Apaches, which are being used in counter insurgency operations in Afghanistan, can manoeuvre and attack small targets in relatively built-up areas. Heavily-armed Apaches and French Tiger helicopters are equipped with night vision equipment and electronic guidance systems.
Gaddafi forces have shed their uniforms, are using civilian vehicles and hiding armour near civilian buildings, including hospitals and schools.
The decision to deploy the helicopters is a clear recognition that high-level bombing from 15,000 feet cannot protect civilians who continue to be attacked by rocket and mortar shells. It brings the Nato offensive much closer to the ground at a time when Britain and other Nato countries are insisting they have no intention of sending in troops.
However, the helicopters could be vulnerable to hand-held rocket propelled grenades and even rifle fire.

(Excerpt) Read more at guardian.co.uk ...
---
TOPICS: Breaking News; News/Current Events; United Kingdom
KEYWORDS: 0bamasquagmire; afghanistan4russkies; blackhawkdown; falklands2; gaddafi; libya; missioncreep; mogadishu; noflyzone; obamaswar; quagmire40bama; regimechange; rpg; shoulderfire; somalia2; stingerbait; uk; urbanwarware
---
Navigation: use the links below to view more comments.
first 1-20, 21-40, 41-50 next last
---
---
---
---
---
---
---
---
---
---
---
---
---
---
---
---
---
---
---
---
---
Navigation: use the links below to view more comments.
first 1-20, 21-40, 41-50 next last
---
---