---
Memorial Day weekend at Walter Reed, Week 319, May 27, 2011
May 28, 2011 | Kburi


Posted on 05/28/2011 6:15:57 AM PDT by kburi
Although there is no bus tonight due to the Memorial Day weekend there were more uniformed soldiers leaving on foot than we usually see.
Most of the evening passing cars gave us loud honks and waves. Our flags and signs were in good hands. Meanwhile TammyCat and VictoryNY loudly express Support for our Troops. We were joined by Diane, mother of a wounded warrior, Allen. She is proudly holding the 82nd Airborne DN flag. We hope to see her again and wish Allen the best in his recovery.

We had a good group this evening and filled the four corners all night even during a severe cloud burst. These storms come late in the day with high winds, black clouds, rain and lightning. After grabbing ponchos and umbrellas we stayed on the corners. The storm passed in 30 minutes or so.



Memorial Day weekend is a great time to be in Washington DC. Rolling Thunder, in its 24th year, continues to arrive with ten's of thousands of riders. Wreath laying ceremonies and patriotic memorials of remembrance are held throughout the DC area, and of course, Rolling Thunder's Big Ride down Constitution Avenue on Sunday starts at noon. Rolling Thunder demands the accountability of our prisoners of war / missing in action. "We Will Never Forget".

Next week the Friday night dinner bus will back and so will we.







.
---
Diane and VictoryNY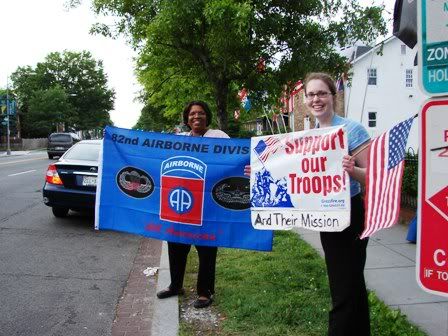 ---
HONOR ROLL for May 27, 2011
Mr. and Mrs Trooprally, VictoryNY, TammyCat and Idaho, Lurker Bill, Fraxinus, Lurker Jim, CindyTrueSupporter, Kburi, Lurkers Gavin, Bryan and Terry.
---
Moonbat News

Just a couple of moonbats tonight. Gone at 9pm.


---
FOOTNOTES
The DC Chapter invites you to join us every Friday night between the hours of 6:30pm to approximately 9:30pm.
---

If you can't get to D.C. to join us but would like to do something for the wounded, you can find a wealth of ideas by FReepmailing Tom the Redhunter, Cindy-True-Supporter, VAFlagwaver, or PleaDeal. Directions to our Walter Reed freep location from the Takoma metro station

BufordP's Walter Reed FReep archive



---
May 27, 2011, Photos, (courtesy of Mrs. Trooprally)


TammyCat and Lurker Jim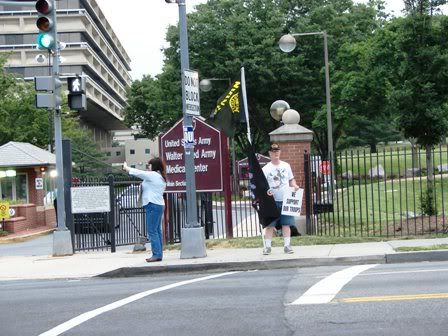 Trooprally Shows his Legs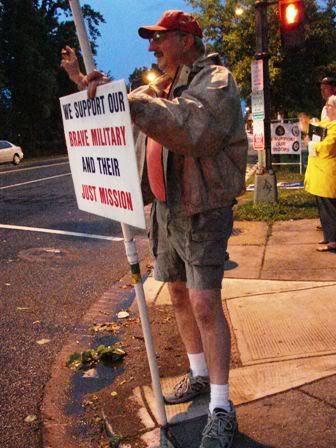 Faxinus and Gavin


VictoryNY and Lurker Jim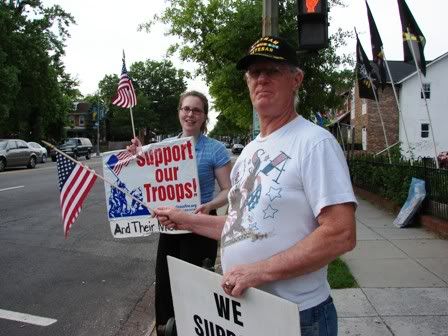 Terry and Bryan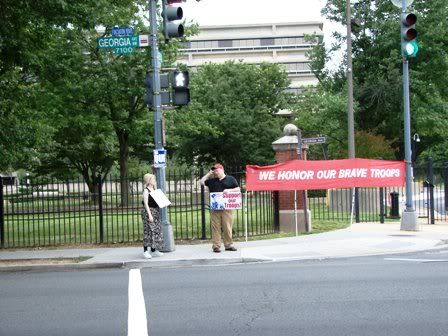 Storm Approaches Walter Reed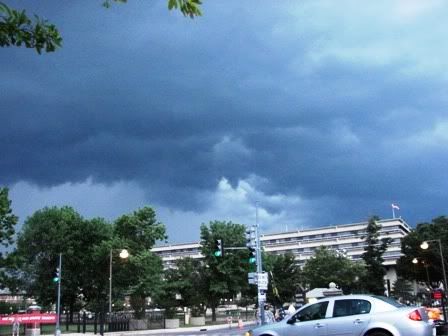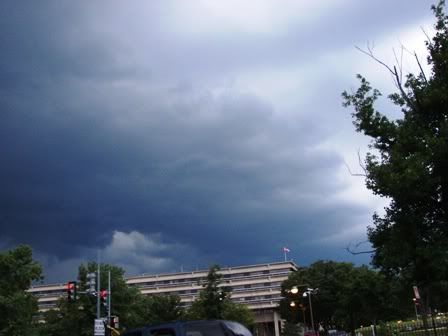 Flags Blowing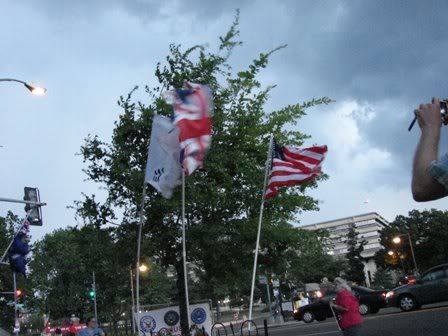 Rain Doesn't Stop Us From Talking with Soldiers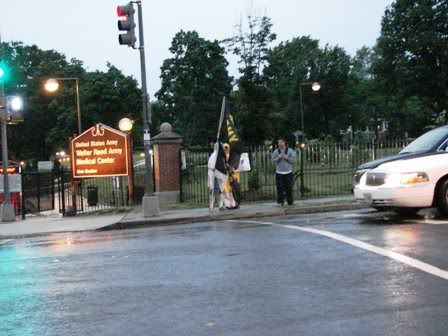 Gavin and Kburi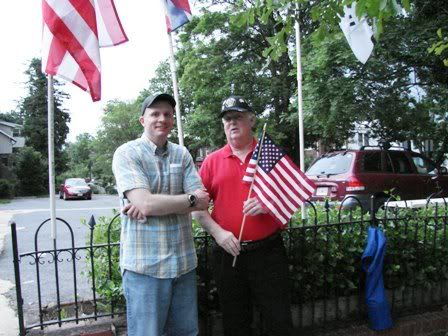 Lurker Bill

---
TOPICS: Activism/Chapters; Free Republic; US: Maryland; US: Virginia
KEYWORDS: aar; military; patriotism; walterreed
---
---
---
---
---
---
---
---
---
---
---
---
---
---
---
---
---
---