---
Analysts blame faulty assumptions for prolonged Libya war
CNN ^ | June 29, 2011 | Moni Basu


Posted on 06/29/2011 9:51:40 PM PDT by MinorityRepublican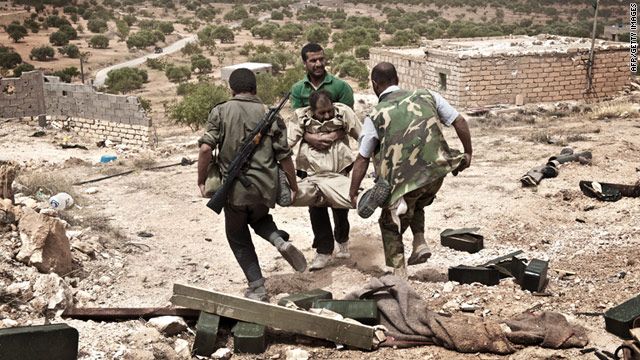 Libyan rebels carry away a comrade wounded during fighting with forces loyal to Libyan leader Moammar Gadhafi on June 7.
It was supposed to have been over in a few days. World powers would go in with fighter jets and the world's most sophisticated precision-guided weapons to render Libyan leader Moammar Gadhafi powerless.
But that's not the way things happened.
As NATO's airstrikes crossed the 100-day mark, analysts blamed a host of faulty assumptions, including success based solely on surgical airstrikes, for a protracted war that some fear could drag on for more months.
"It's absolutely wrong to think that an air campaign can win this," said Andrew McGregor of the Jamestown Foundation and director of Aberfoyle International Security, a Toronto-based agency specializing in security issues related to the Islamic world.
The basic problem, McGregor said, stemmed from presuppositions about the fortitude of the Libyan opposition.
Buoyed by the successful uprisings to the east in Egypt and to the west in Tunisia, Libyan rebels believed they had the mettle to bring down Gadhafi. Western powers believed that with a little help, Libya could be freed from totalitarian rule.
But rebels launched an armed insurrection against a man who had spent four long decades preparing his state for unforeseen challenges. This wasn't a peaceful revolution of the masses against a government that had no public support.
"This revolt never really had the strength to succeed," McGregor said.

(Excerpt) Read more at cnn.com ...
---
TOPICS: News/Current Events
KEYWORDS: libya; nato; noflyzone; obama; obamaswar; palindoctrine
---
---
---
---
---
---
---
---
---
---
---
---
---
---
---
---
---
---
---
---