---
July 4th Weekend Starts at Walter Reedís Front Gate! Week 324 July 1, 2011
July 2, 2011 | Kburi


Posted on 07/02/2011 7:57:48 PM PDT by kburi

The long July 4th weekend at Walter Reed and in Washington, DC usually means a low volume of traffic in and out of WRAMC and up and down Georgia Ave.
Not tonight. Two big ambulances arrived early with wounded soldiers reminding us why we are at the front gates.



Bill Salutes Arriving Ambulance Early In The Evening,
As It Turns Into Walter Reed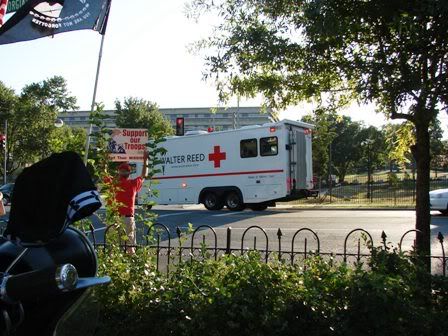 We were all busy talking with wounded warriors who came out to be with us, and we were dealing with a significant volume of drivers honking and waving.
Tonight, a DC motorcycle officer spent almost the entire evening in our parking lot; and across Georgia Ave., two young moonbats tried some lame discussion points on Bryan.
There was no bus tonight as it is a long vacation weekend.


Margaret from the Aleethia Foundation joined us and brought roast beef sandwiches, wings and cookies. It is most appreciated. Because there is no Wounded Warrior dinner bus tonight she was able to join us.


Our visitors tonight included Bobby and his wife, Susan, from Louisiana. They have been to a couple of Friday night dinners and have seen us on the corners when the bus returned. Tonight they came out to thank us for being there.
Bobby was with the 199th Infantry Dn when he was wounded. They have been here 15 months and he is almost ready to be released.

Heather came out to spend some time with us. She was with the 101st in Iraq and has been at WRAMC for three years. She will be transferred to Ft Belvoir in Virginia.
We discussed her registering to vote in Virginia so she can vote for a senator and representative, in addition to the president. In DC, residents can't vote for a senator or representative. She discussed how military votes were squashed in recent elections.


July / August Calendar

July 1st No Dinner Bus (This is the 4th of July weekend)

July 8, July 15, July 22, and July 29 Dinner Buses will operate.

The DC Chapter of Free Republic invites all who have participated over the past 6 ½ years to join us on any the above dates that you can. July 29th should be especially meaningful.

July 27 Closing Ceremony - Lowering of the Colors at Walter Reed

August 5, 12, 19, and 26 We will continue at the front gates until the last wounded warriors are moved to Bethesda.

It is possible that dinner buses may operate after July 29, until early August, but for those who want to be certain to be there when the dinner bus returns with the soldiers, please plan to join us on one of the July Friday nights..
After that, the Aleethia Foundation will coordinate these dinners from (get used to the new name) the Walter Reed National Military Medical Center, or WRNMMC for short.

The DC Chapter will continue at the front gates of Walter Reed until August 26. Walter Reed officially closes during the last week of August .

.
---
Aleethia Says Thanks To The DC Chapter of Free Republic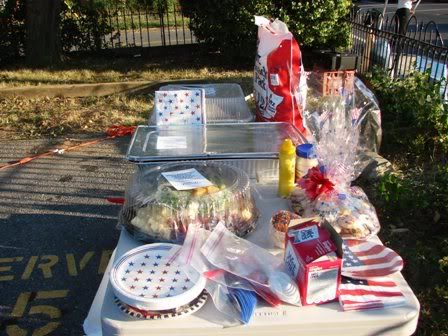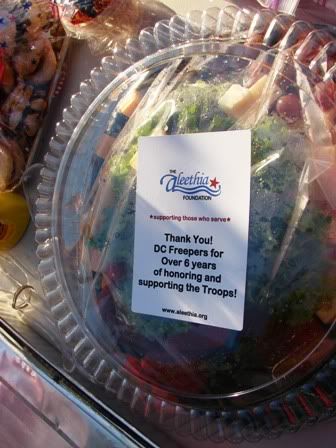 ---
HONOR ROLL for July 1, 2011
Mr. and Mrs Trooprally, CindyTrueSupporter, GunsAreOK, Kburi, Lurker Bill, Lurker Jim, Bryan and Terry, VictoryNY. PresUSA222, Margaret of the Aleethia Foundation


---
Moonbat News

Four moonbats tonight.
Then two more about 8:30pm. You know what happens at 9pm. They are gone.
Two young moonbats, a guy and a gal, approached Bryan with a question "are you against them?" (referring to the antiwar, anti American moonbats down the street). Bryan said "yes, they are anti war". So the young moonbat responds "then you are for war!" Bryan says "no, we are for supporting the troops and their families and no one's for war." Seeing that their lame assertions were getting smiles, not anger, they left.
---
---
FOOTNOTES
The DC Chapter invites you to join us every Friday night between the hours of 6:30pm to approximately 9:30pm. The last Walter Reed dinner bus is scheduled for July 29th. And we plan to soldier on until the last soldier has been transferred (August 26 will be our last Friday night). So the clock is ticking and we would be honored to have you join us before these long term consecutive Friday evening rallies come to a close.
---

If you can't get to D.C. to join us but would like to do something for the wounded, you can find a wealth of ideas by FReepmailing Tom the Redhunter, Cindy-True-Supporter, VAFlagwaver, or PleaDeal. Directions to our Walter Reed freep location from the Takoma metro station

BufordP's Walter Reed FReep archive



---
July 1, 2011 Photos, (courtesy of Mrs. Trooprally)


Trooprally and Bill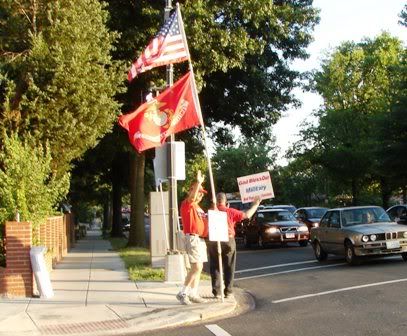 Heather, Wounded Warrior, Thank You For Your Service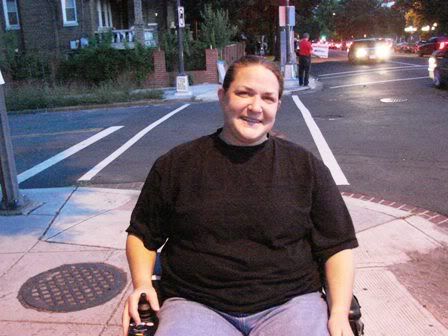 VictoryNY, CindyTrueSupporter and Susan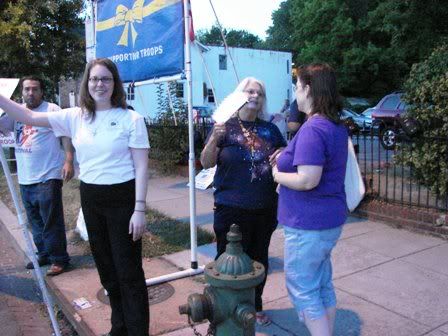 Kburi, Bobby, Susan, PresUSA222, Jim and GunsAreOK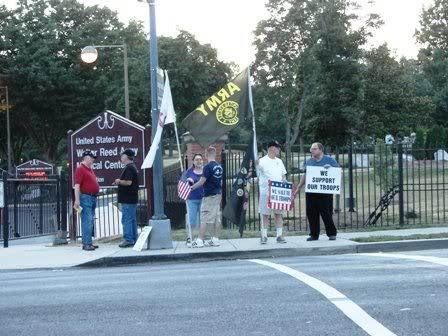 One of DC's Finest Kept Us Company Tonight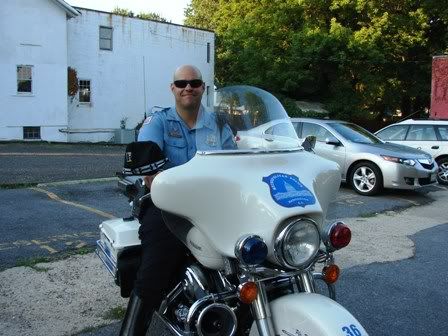 Bryan and Terry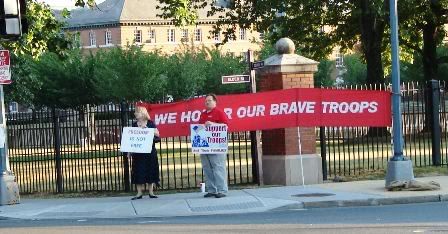 Kburi and Margaret
Flags Over Georgia (ave)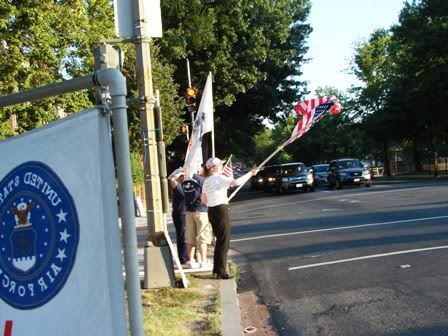 PresUSA222 and VictoryNY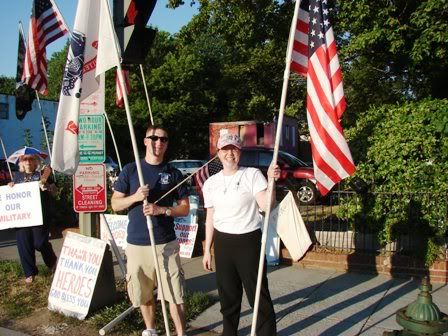 ---
TOPICS: Activism/Chapters; Free Republic; US: Maryland; US: Virginia
KEYWORDS: aar; military; patriotism; walterreed
---
---
---
---
---
---
---
---
---
---
---
---
---
---