---
Walter Reed Week 327: Massive Patriot Gathering in 115 Heat Index
Posted on 07/24/2011 6:25:12 PM PDT by trooprally
DON'T FORGET NEXT WEEK, JULY 29TH. WE ARE HAVING THE LAST BIG GET TOGETHER TO CHEER OUR WOUNDED WARRIORS THRU THE GATE. This will be the last chance to see everyone together. A special invite goes out to the past regulars who stood at the gate in our early years.


"Eagles don't flock, you gather them one at a time".
This could not have been more true than last night. While we expected "several" additional patriots this Friday, we also knew of several other Friday night regulars who would not be there. An average attendance of a dozen was expected.
BUT THEY CAME, one at a time and by the car load, . The remarkable thing was that there was no planning, no word of mouth, no texting. Some patriots came because they will not make this Friday, some came to support Bev Perlson's cause, some are the regulars that show up each Friday, and some said that they will be back this Friday for our last FReep.
List of 29 Patriots at Walter Reed this extremely hot and muggy Friday: Lurkers Bill, Jim, Terry and Bryan, 3DJoy (Florida), Cindy_True_Supporter, Credo 2 (Eastern Shore), Fraxinus, Patriotsister, Prez222, RongKirby, SeektheTruth & husband James (Florida), Sensei Ern, Tammy Cat, USNRetired (aka Chief), and Special Visitors: Allie (Consultant helping to close down WR), Bev Perlson (Band of Mothers, Chicago area), Debbie Lee (Mother of 1st Navy Seal killed in Iraq, Arizona) Don, Jaime, Phil Kiver (former Army and author of several books on the military in Iraq), Provi, Ted & Ann (Patriot Guard Riders), TJ (Gathering of Eagles) and her granddaughter, and of course [Mrs] T and myself.
The dinner bus was cancelled tonight due to the hot weather. When looking at the weather channel, worry about the 'dew point', not the 'humidity'. Humidity was a bearable 64% while the dew point was 74%. It starts to get stickie when the dew point gets to around 65%.
BELOW: We broke up shortly as the moonbats left to celebrate 3 birthdays - 3DJoy, Debbie Lee and Don.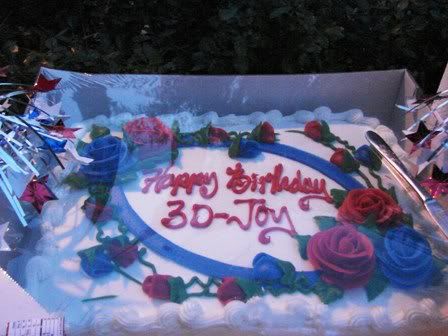 Pics by [Mrs] T, assisted by Prez222
And the pictures say everything about these patriots.
BELOW LEFT: Canteen BELOW RIGHT: The table was so full, the pizzas had to be put on the back of SeektheTruth's truck.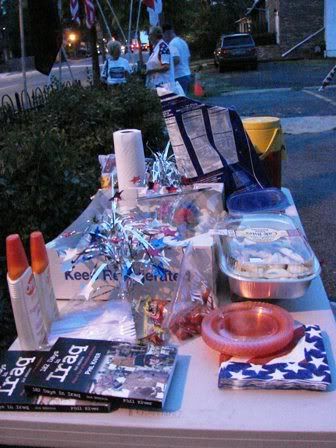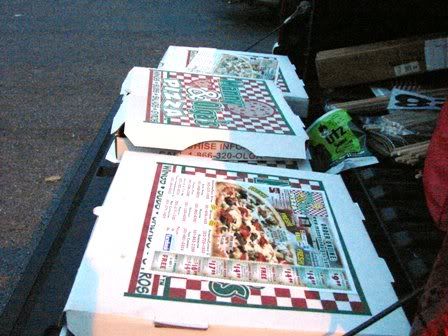 BELOW LEFT: Debbie Lee with picture of her son. BELOW RIGHT: Moab, 2nd week in a row it is up.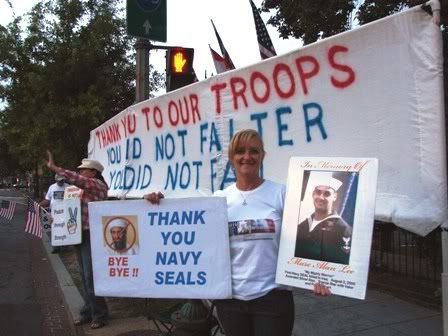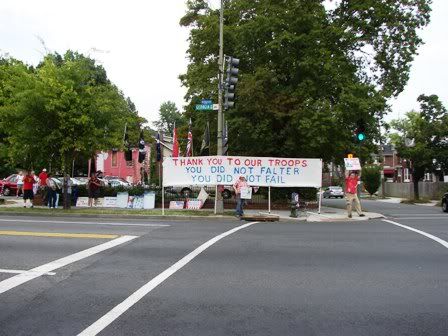 BELOW LEFT: PGR Ted BELOW RIGHT: PGR Ann & Chad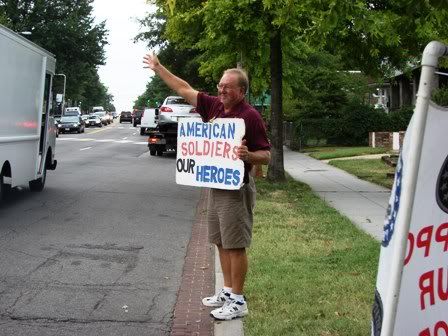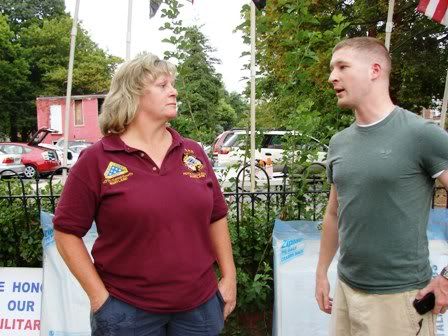 BELOW LEFT: Don with cigar. There were a lot of cigars floating around tonight. BELOW RIGHT: Phil Kiver and Fraxinus, more cigars.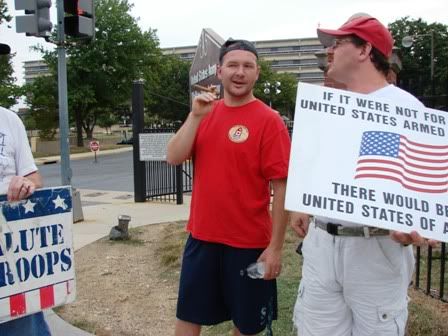 BELOW LEFT: Lurker Bill and 3DJoy BELOW RIGHT: Terry and Bryan.
BELOW LEFT: The southwest corner had a large gathering. Must have been TJ's music. With her music and Lurker Bill's, we had plenty of music. BELOW RIGHT: TJ (back ground), her granddaughter, Beveley and me sneaking out of picture.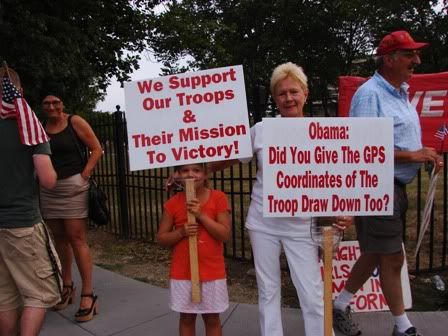 BELOW LEFT: Prez222, granddaughter, Chief and Beverly. BELOW RIGHT: Ida, Provi, Jeime and RongKirby.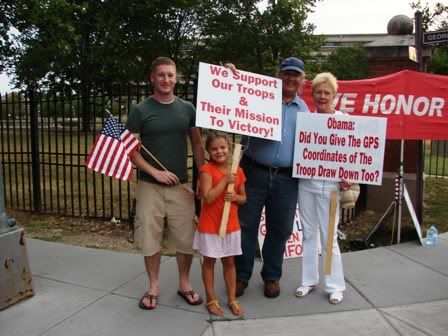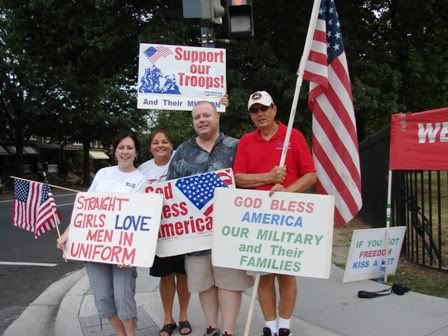 BELOW LEFT: Credo 2, 3DJoy and Cindy_True_Supporter. BELOW RIGHT: Tammy Cat.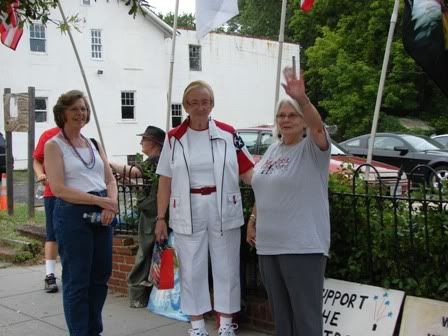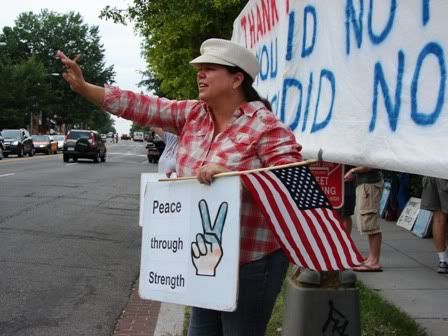 BELOW LEFT: Allie BELOW RIGHT: Lurker Jim wondering why his Army flags are not unfurled, with Debbie Lee in back ground, Phil Kiver and Fraxinus.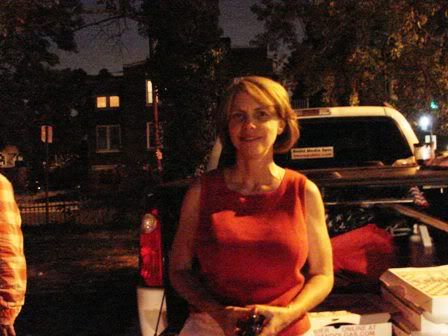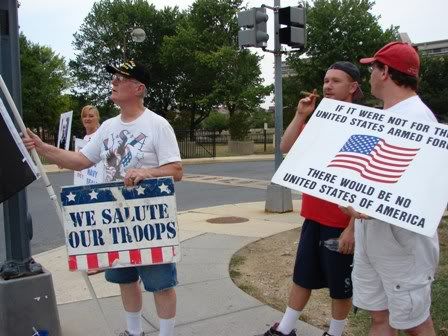 BELOW: Three moonbats. Must be really disheartening to see the numerous patriots out this Friday, actually every Friday. And we are not paid by the unions.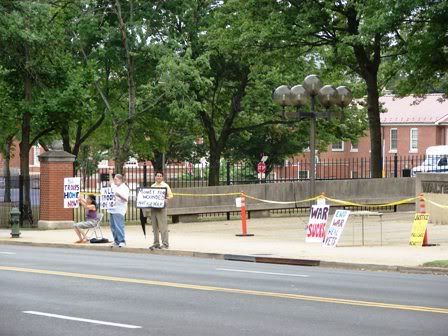 ---
TOPICS: Activism/Chapters; Free Republic; US: District of Columbia; US: Maryland; US: Virginia
KEYWORDS: aar; patriots; walterreed; woundedwarriors
---
Navigation: use the links below to view more comments.
first 1-20, 21-40, 41 next last
---
---
---
---
---
---
---
---
---
---
---
---
---
---
---
---
---
---
---
---
---
Navigation: use the links below to view more comments.
first 1-20, 21-40, 41 next last
---
---