---
Big Crowd, DAV Bus Stops and Wounded Warriors Thank Us, Week 328 July 29, 2011
August 1, 2011 | Kburi


Posted on 08/01/2011 11:36:56 AM PDT by kburi
On a hot July Friday evening, temperature at 100 degrees, you might expect everyone has left for the beach. Not at the Walter Reed front gate! Tonight, over 41 Freepers, lurkers and visitors arrived to support the wounded warriors and their families on one of the few remaining Friday nights before the final transfer to Bethesda and Ft Belvoir.
A number of Freepers returned to join us. They came from Florida, California, Ohio, Pennsylvania, Massachusetts, New Jersey and Georgia.
SeektheTruth brought a sign all the way from Florida thanking the DC Chapter of Free Republic for its 328 consecutive Friday nights at Walter Reed.

Waiting for, and cheering the bus bringing the wounded warriors and their families back from the Aleethia Foundation dinner is always Friday evening's highlight.
Tonight, the DAV (Disabled American Veterans) bus pulled up, stopped and the wounded warriors who could get off, did so, and thanked us for being there.
They quickly discovered that it was us who thanked them and their families for their service. Only one other time in the six years and four months of consecutive Friday nights has the bus stopped, allowing several FReepers to go on the bus.
Tonight, several wounded warriors and family members not only came out to talk with us, but also a number of us went on the bus and talked with those on the bus.
What a honor!



Trooprally had arranged for everyone to light sparklers as the bus drove up to the front gate, and just as we did, a fire engine down the street turned its flashing lights on. We weren't hassled and later, that fire engine with lights and sirens on, actually blocked traffic allowing the DAV bus to make its left turn into Walter Reed!
It's never quiet on Friday nights.

Mrs Trooprally arranged for 6 large pizzas, several coolers of cold drinks and some Freepers brought desserts including some delicious velvet cupcakes. We have developed a pretty nice food court over the years.
A breeze kicked up about 8:15pm which relieved the intense heat.

A car leaving WRAMC stopped and the mother who was driving told Bryan, "I am taking my son home now, thank all of you for your support here."
Her son, a wounded warrior, was in the back seat.

Army Captain K (Medical Corps) walked through our crowd on his way home, and asked what we were doing.
It was his first Friday at Walter Reed having just been transferred here to work with wounded warriors at Fort Belvoir (Virginia).
After hearing about our Friday night commitment and seeing the signs, banners and flags, he said he was stunned to find this type of support for the wounded warriors and said that if he stayed any longer he would have moist eyes.









WO4Man sent a video of July 29 highlights at Walter Reed:




WO4Man's Video


WO4Man's photos are posted in the picture section below.



SeektheTruth Brought The Free Republic Flag From Florida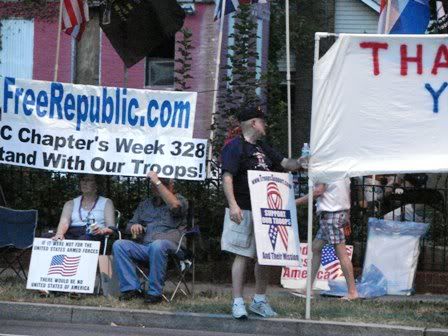 MOAB and Flag Row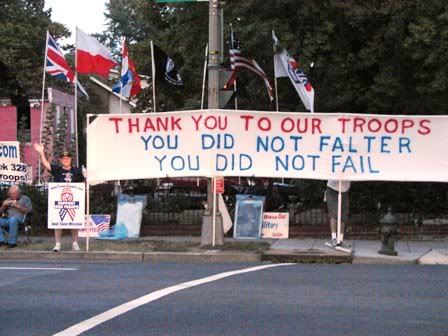 WO4Man Securing the Corner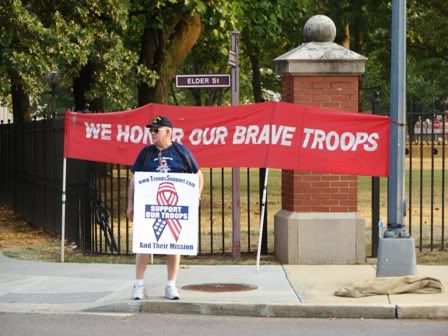 Tonight's Big Crowd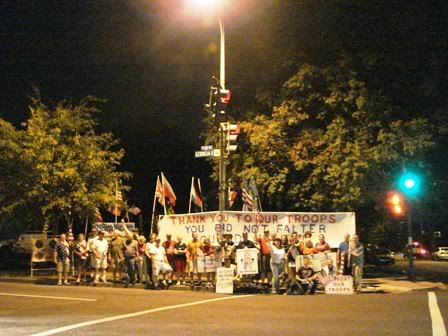 Tonight was the 328th consecutive Friday night that the DC Chapter of Free Republic has been at the front gates of Walter Reed to support our soldiers. Our calculator says that is 6 years and 4 months of consecutive Friday evenings. A lot of people over the six years have made this commitment possible.
It doesn't seem possible, but after tonight only four Friday evenings remain.


August Calendar For the Walter Reed Transition

The DC Chapter of Free Republic invites all who have participated over the past 6 ½ years to join us on any the dates below that you can.

August 5, 12, 19, and 26 We will continue at the front gates until the last wounded warriors are moved to Bethesda. We expect the Friday night dinner buses to operate through early August. However, it depends on how many wounded warriors sign up. Many are already at Walter Reed National Medical Center in Bethesda.


The Aleethia Foundation is already coordinating these dinners from (get used to the new name) the Walter Reed National Military Medical Center, or WRNMMC for short.

The DC Chapter will continue at the front gates of Walter Reed until August 26. Walter Reed officially closes during the last week of August .

---
---
FReepers, Lurkers and Visitors on July 29, 2011
Mr. and Mrs Trooprally, CindyTrueSupporter, 3D-Joy, BufordP, Fraxinus, GunsAreOK, Kburi, PresUSA222, RonGKirby, Sensei Ern, Tammycat, VictoryNY, AGreatPer, Albion Wilde, Credo2, DollyCali, JoyjoyfromNJ, NewEnglandPatriot, Patriot Sister, RLmorel, SeektheTruth, stratman1969, WO4Man, BOQ, Lurkers Allie, Bill, Bryan and Terry, Captain K, Carol, Jessica, Jim, Laurie, Ted Nettles and Anne from Patriot Guard, Mr SeektheTruth, Cathy and Audrey from California, Jonn Lilyea of This Ain't Hell blog, http://thisainthell.us/blog/ , and Phil Kever, Iraq veteran and author of "182 Days in Iraq"


---
Moonbat (eruption)News

Four moonbats tonight. They seemed a small afterthought compared to the 41 or so FReepers and visitors the front gate. Walter Reed Security continues to insure that they display their signs according to WRAMC policy. This seems to annoy the moonbats. In the picture, union boss and lead moonbat protester, Bruce, gave the finger to the Walter Reed Security Police as they drove away. WR Security had just made them remove their signs from Walter Reed property. They left promptly at 9 pm.

Union Boss Bruce says "Thanks" to Walter Reed Security Police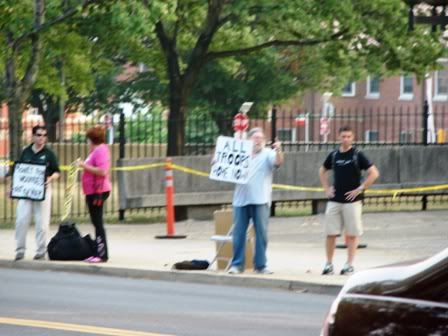 ---
---
FOOTNOTES
The DC Chapter invites you to join us every Friday night between the hours of 6:30pm to approximately 9:30pm. The last Walter Reed dinner buses are scheduled through early August. And we plan to soldier on until the last soldier has been transferred (August 26 will be our last Friday night). So the clock is ticking and we would be honored to have you join us before these long term consecutive Friday evening rallies come to a close.
---

If you can't get to D.C. to join us but would like to do something for the wounded, you can find a wealth of ideas by FReepmailing Tom the Redhunter, Cindy-True-Supporter, VAFlagwaver, or PleaDeal. Directions to our Walter Reed freep location from the Takoma metro station

BufordP's Walter Reed FReep archive



---
July 29, 2011 Photos, (courtesy of Mrs. Trooprally)


Trooprally's Sparklers Light Up As the Bus Arrives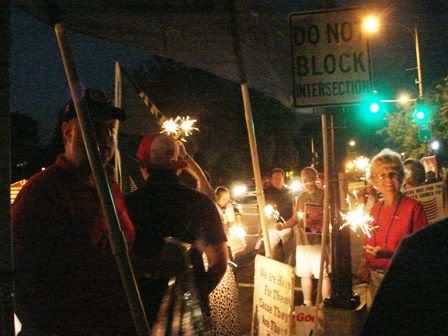 CindyTrueSupporter and 3D-Joy Board the Bus

We Thank Two Wounded Warriors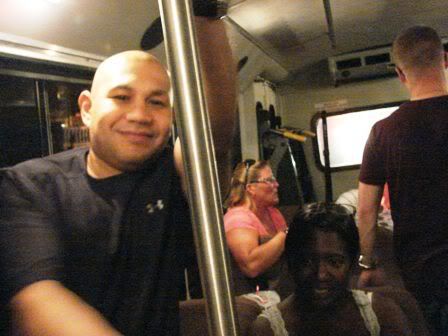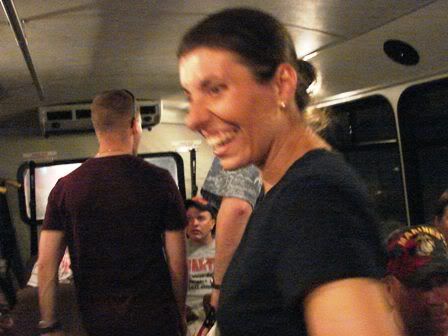 Allie, Laurie and RonGKirby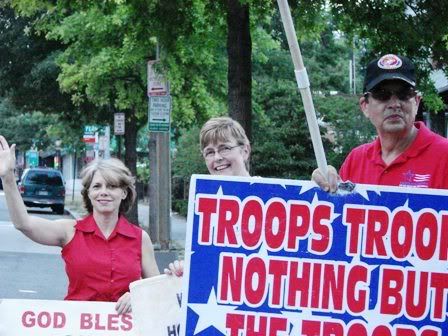 Mrs Trooprally and 3D-Joy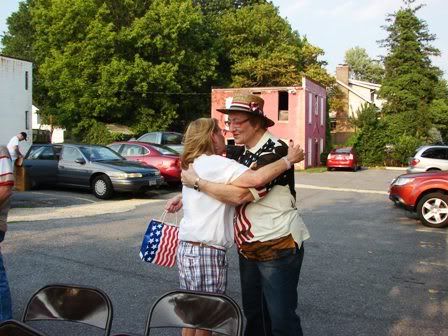 SeektheTruth and Mr SeektheTruth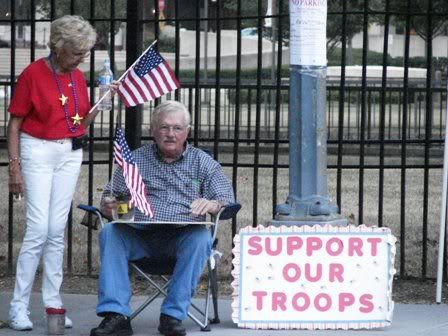 Dolly Cali with Josie and Toby. Ted and Anne of Maryland Patriot Guard are standing behind Dolly Cali.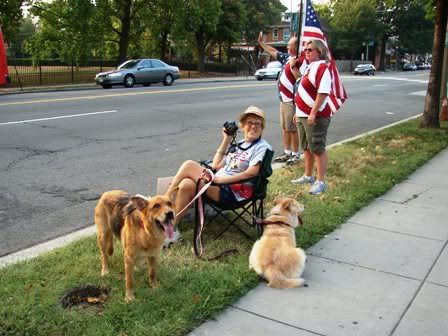 Mr SeektheTruth, JoyjoyfromNJ, BufordP, Bryan, Terry and WO4Man



Carole and AGreatPer. Trooprally and Ted are talking in the background,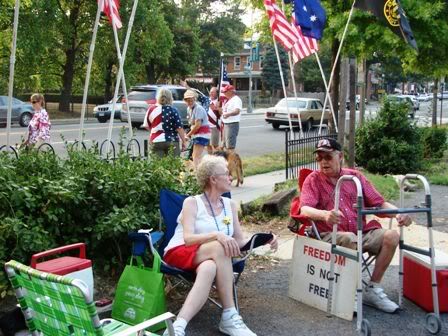 3D-Joy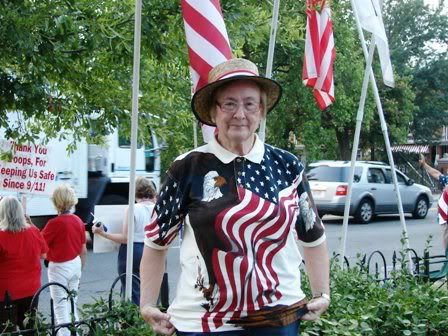 Cathy and Audrey from California
SeektheTruth and Credo 2

VictoryNY


Jim, Fraxinus, a visitor and Patriot Sister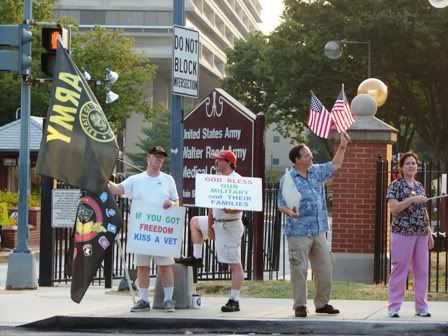 BufordP talking with SeektheTruth, Standing - Sensei Ern and John Lilyea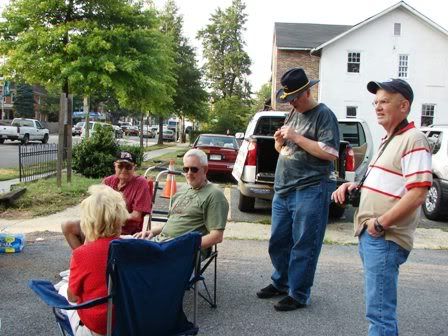 More Photos sent By WO4Man
---
---
TOPICS: Activism/Chapters; US: Maryland; US: Virginia
KEYWORDS: aar; rally; walterreed
---
Navigation: use the links below to view more comments.
first 1-20, 21-40, 41-49 next last
---
---
---
---
---
---
---
---
---
---
---
---
---
---
---
---
---
---
---
---
---
Navigation: use the links below to view more comments.
first 1-20, 21-40, 41-49 next last
---
---