---
Rebels say they are gaining ground in Libya; government disputes claim
CNN ^ | August 13, 2011


Posted on 08/13/2011 11:16:20 PM PDT by MinorityRepublican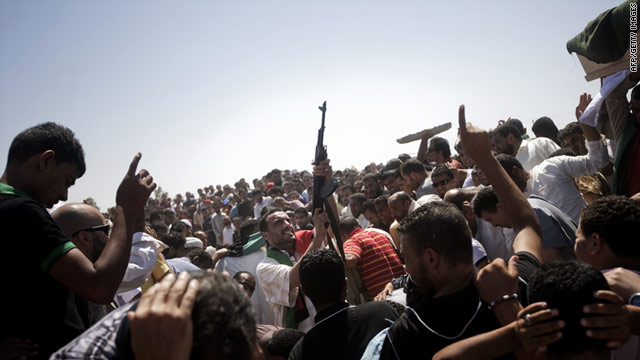 A Libyan mourner fires shots in the air at a cemetery on August 12 during the funeral of five rebels killed in the battle for the control of the oil-rich town of Brega.
Tripoli, Libya (CNN) -- Rebels said Saturday that they were gaining traction in a series of offensives in several parts of Libya controlled by ruler Moammar Gadhafi -- claims that the Libyan government swiftly disputed.
Heavy gunfire was heard in al-Zawiya, located about 33 miles west of Tripoli, where rebels had arrived. Rebels entered the city center and managed to cut off the road to Tripoli, they said.
Talha Jwaili, a rebel fighter, told CNN that rebels control al-Zawiya. Ten rebels died in the fighting, four from Zintan and six from al-Zawiya, he said. More than 20 people were reported injured.
A spokesman in the media office of the Military Council of the Western Mountain Region said that rebels control about 85% of the city and that clashes there are ongoing.
CNN could not independently confirm Saturday who was in control of al-Zawiya, nor other details of the rebels' accounts.
A government spokesman downplayed the fighting, telling reporters in Tripoli that the town is "absolutely under our control."
Al-Zawiya is strategically important because the coastal road through the city is the main supply line from the Tunisian border to areas held by Gadhafi.

(Excerpt) Read more at cnn.com ...
---
TOPICS: Breaking News; News/Current Events
KEYWORDS: alqueda; daysnotweekssezobama; gaddafi; libya; nato; obama; obama4alqueda; obamaswar; rebels; warpowers
---
---
---
---
---
---
---
---
---
---
---
---
---
---
---
---
---
---
---
---