---
To: Eagle Eye
If Perry is NWO , CFR, and Bilderburg , he better know the secret handshakes or i'm not voting for him ...
15
posted on
08/20/2011 10:54:06 AM PDT
by
Neu Pragmatist
(Rick Perry is the only one who can defeat Romney and Obama)
---
To: Neu Pragmatist
The Bilderberg Conference is an "invitation only" annual meeting that invites people that are considered "influential", both liberals and conservatives, to get together and butt heads about different problems.
It is sort of like a "Pro-Bowl Game" of political and economic leaders.
In her day, Margaret Thatcher was invited to and attended a Bilderberg Meeting.
The only problem with attending a Bilderberg Meeting, however, is that it earns you the wrath of the Tin-Foil Hat/Black Helicopter crowd.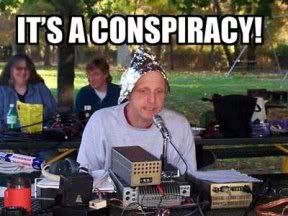 48
posted on
08/20/2011 11:26:25 AM PDT
by
shield
(Rev 2:9 Woe unto those who say they are Judahites and are not, but are of the syna GOG ue of Satan.)
---
FreeRepublic.com is powered by software copyright 2000-2008 John Robinson