---
U.S. has nearly doubled air attacks on Libya in past 12 days
CNN ^ | August 22, 2011


Posted on 08/22/2011 5:56:08 PM PDT by MinorityRepublican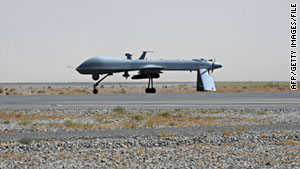 The Pentagon says attacks by armed Predator unmanned planes have risen to 1.4 a day.
Washington (CNN) -- As the rebels in Libya push closer to ending the regime of embattled Col. Moammar Gadhafi, U.S. warplanes have been increasing their attacks on government positions as part of the NATO campaign.
New numbers released by the Pentagon on Monday show that the number of U.S. air attacks on Libyan air defenses, ground forces and other targets has nearly doubled over the past 12 days, compared with air attacks in the first 132 days of the NATO mission.
There was an average of 1.7 strike sorties a day from April 1 to August 10, compared with 3.1 strike sorties in the past 12 days.
The Pentagon release indicates that attacks by armed Predator unmanned planes have more than doubled to 1.4 attacks a day, compared with .6 attacks a day between April 1 and August 10.
The cost to the U.S. taxpayers for America's share of the Libyan mission, known as Operation Unified Protector, is approaching $1 billion.

(Excerpt) Read more at cnn.com ...
---
TOPICS: News/Current Events
KEYWORDS: gaddafi; illegalwar; libya; obama4alqueda; obama4sharia; obamaswar; warpowers
---
---
---
---
---
---
---
---
---
---
---
---
---
---
---
---
---