---
Final Friday Evening at Walter Reed - Week 332 August 26, 2011
August 29, 2011 | Kburi


Posted on 08/29/2011 6:49:51 PM PDT by kburi
We knew it was coming and planned for it.
For six years and four months of consecutive Friday evenings, the DC Chapter of Free Republic, other groups and individuals successfully challenged Code Pink and their union pawns in front of Walter Reed. After several months, they were forced from the Walter Reed front gates to a location 50 yards down Georgia Ave.
Since June 2005, many Americans have gathered on Friday nights to continue to keep the anti-military forces away and to show support to the wounded warriors and their families.
Tonight, then, was different from all others. Walter Reed will close its gates tomorrow, Saturday, when the last 24 critical care patients are taken by ambulance to Bethesda Naval Hospital.



Twenty FReepers and Lurkers turned out for the final Friday in very good weather. There were no ambulances bringing in the wounded, nor was there a dinner bus for wounded warriors to welcome back.
Many of the cars leaving Walter Reed had supplies or suitcases in the back seats. Soldiers moving to new quarters.
There were a lot of honks and waves from passing cars. This stretch of Georgia Ave will be strangely quiet on Friday nights from now on.

New England Patriot made it even though he is recovering from pneumonia, kudos to him! We were also joined by Elizabeth and Leticia. Elizabeth is the mother of a wounded warrior who is recovering from wounds. We have gotten to know her and her son, and wish both of them the best. Elizabeth's friend, Leticia, is a counselor for wounded warriors, and has worked at Walter Reed for 30 years.

After securing the flags, signs and banners for the last time, Trooprally thought we should celebrate the final Friday evening with a little champagne which we did. Sensei Ern proclaimed " Mission Accomplished".



Tomorrow morning at 6:30 am, Saturday, we will be at Walter Reed to salute the final 24 critical care wounded warriors who are being transported to Bethesda. There will be a separate after action report for the final move.



It's appropriate to express our great appreciation to all those who have participated with us or have expressed support in after action reports or by email. Along the way we have met many fine Americans who all care about this country and our fine soldiers.


While there are no immediate plans for the future, the DC Chapter of Free Republic will continue to hold Recruiter Appreciation Days, to counter anti-military demonstrations in the DC area and work individually with wounded warriors as volunteers when we can.
Some members of the DC Chapter along with an American Legion Post have been countering an anti -military protest in Olney, Md for almost six years.



Meanwhile, let none of us forget our soldiers and their families. There is still much to do in supporting them.

Let's do it.
3D-Joy Sums It Up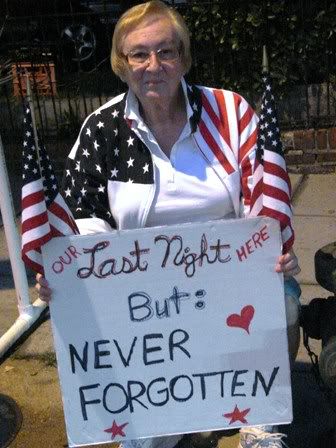 ---
To see After Action Reports beginning in March 2005, please check BufordP's Walter Reed Freep Archives :

BufordP's Walter Reed FReep archive
---
FReepers, Lurkers and Visitors on August 26, 2011, The Last Friday Night
Mr. and Mrs Trooprally, 3D-Joy, CindyTrueSupporter, Fraxinus, Kburi, New England Patriot, RonGKirby, SenseiErn, TammyCat, ToleranceSucksRocks, VictoryNY, Lurkers Bill, Bryan, Jim, Kim and Terry. Visitors Elizabeth and Leticia.


---
Moonbat News

Four moonbats tonight. Very Quiet. All left promptly at 9 pm.

Removed by the DC Chapter of FRee Republic from the front gates of Walter Reed in January 2006, Code Pink and this union crew never made it back to the front gate of Walter Reed.

They spent the following six years exiled down the block and virtually out of sight.
A Final Look At the Moonbat 4
---
---
FOOTNOTES
BufordP's Walter Reed FReep archive
---
August 26, 2011 Photos, (courtesy of Mrs. Trooprally)
Last Waves
Trooprally, CindyTrueSupporter, TammyCat, and VictoryNY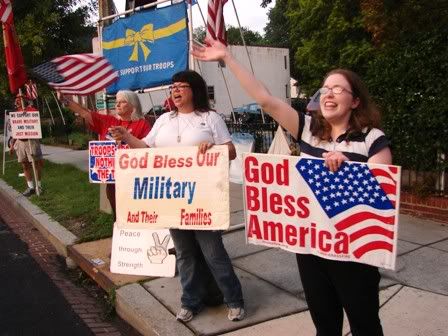 Bill's Waves and "Thank You For Your Service" Set A High Standard For All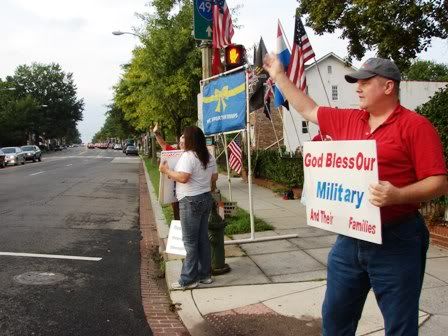 SenseiErn and Fraxinus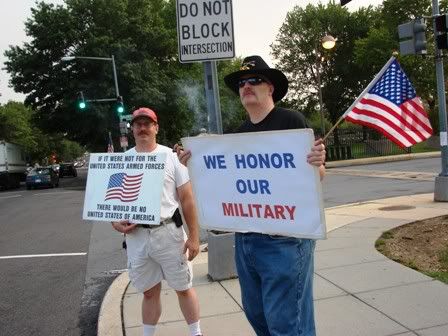 RonGKirby and Terry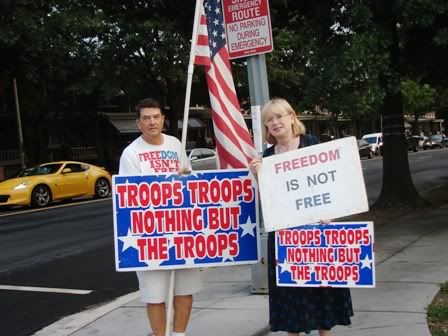 Laticia, Elizabeth and CindyTrueSupporter





RonGKirby, Kburi and Jim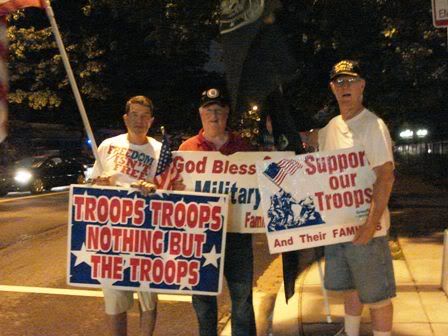 Fraxinus and ToleranceSucksRocks




NewEnglandPatriot – Rolling Up the Ranger Flag




Tomorrow, August 27, 2011, the Final 24 Wounded Warriors
Will Leave Walter Reed Through These Gates
On Their Way To Bethesda


---
TOPICS: Activism/Chapters; Free Republic; US: Maryland; US: Virginia
KEYWORDS: aar; military; rally; walterreed
---
Navigation: use the links below to view more comments.
first 1-20, 21-36 next last
---
---
---
---
---
---
---
---
---
---
---
---
---
---
---
---
---
---
---
---
---
Navigation: use the links below to view more comments.
first 1-20, 21-36 next last
---
---