---
To: onyx; penelopesire; maggief; hoosiermama; SE Mom; Liz; rodguy911; Fred Nerks; Red Steel; ...
Despicable union thug crooks/Chicago Way .. Ping!
~~~~~~~~~~~~
Report: Ex-labor chief works 1 day, nets $158,000 city pension
###
A retired Chicago labor leader has secured a $158,000 public pension — roughly five times greater than what a typical retired public-service worker in the Windy City receives — after spending just one day on the city payroll ...
http://www.msnbc.msn.com/id/44626194/ns/us_news-life/#.TntuaOz-Uk8
~~~~~~~
Chicago union bosses raking in millions from city pension fund
http://hotair.com/archives/2011/09/21/chicago-union-bosses-raking-in-millions-from-city-pension-fund/
###
Excerpt
All it took to give nearly two dozen labor leaders from Chicago a windfall worth millions was a few tweaks to a handful of sentences in the state's lengthy pension code.
The changes became law with no public debate among state legislators and, more importantly, no cost analysis.
Twenty years later, 23 retired union officials from Chicago stand to collect about $56 million from two ailing city pension funds thanks to the changes, a Tribune/WGN-TV investigation found.
The short version of the story is that a couple of decades ago, somebody (amazingly they can't seem to find anyone willing to admit they did it) inserted a change into the pension laws which essentially says that the pension city workers receive can be based on the last salary they drew from the union instead of the actual salary they earned working on the public payroll. Here's a couple of the notable results:
~~~~~
The whole article above is a MUST read. The thug Dem community are raping and robbing us at every level of every state and local govt. and the entire federal govt. apparatus. REMOVING THEM ALL MUST BE OUR CLARION CALL!!
15
posted on
09/22/2011 10:25:56 AM PDT
by
STARWISE
(The overlords are in place .. we are a nation under siege .. pray, go Galt & hunker down)
---
To: STARWISE
PENSION SHOWS HOW BEING CONNECTED IS PROFITABLE
Unionist Gannon now draws a humongous pension (and benefit$$$$?). Gannon collects while employed by a hedge fund----Grosvenor Capital Management------that does work with public pensions, including the Teachers Retirement System of Illinois. Gannon is also on the board of the Illinois Sports Facilities Authority.
Grosvenor Capital Management was one of Mayor Rahm Emanuel's largest campaign contributors.
==============================
After serving as an advisor to Pres Bill Clinton, in 1998 Emanuel resigned from his position and became an investment banker at Wasserstein Perella, (now Dresdner Kleinwort), where he worked until 2002.[26] In 1999, he became a managing director at the firm's Chicago office. Emanuel made $16.2 million in his two-and-a-half-year stint as a banker, according to Congressional disclosures. At Wasserstein Perella, he worked on eight deals, including the acquisition by Commonwealth Edison of Peco Energy and the purchase by GTCR Golder Rauner of the SecurityLink home security unit from SBC Communications.[26]
Then-Pres Clinton named Emanuel to the Board of Directors for the Federal Home Loan Mortgage Corporation ("Freddie Mac") in 2000. That paid Rahm $31,060 in 2000------and $231,655 in 2001. During the time Emanuel spent on the board, Freddie Mac was plagued with scandals involving campaign contributions and accounting irregularities. The Office of Federal Housing Enterprise Oversight (OFHEO) later accused the board of having "failed in its duty to follow up on matters brought to its attention."
Emanuel resigned from the board in 2001 when he ran for Congress--and served four terms.
When reporters asked that documents from Rahm's tenure be released under FOIA laws---Obama refused.

17
posted on
09/22/2011 10:52:03 AM PDT
by
Liz
(The rule of law must prevail. We can't govern ourselves by our personal point of view.)
---
To: STARWISE

Crime never looked so big!



19
posted on
09/22/2011 11:43:53 AM PDT
by
Lady Jag
(Notice how the Democrat party is all Democratic now)
---
To: STARWISE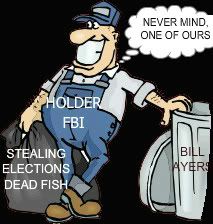 Another thug to remove.
---
FreeRepublic.com is powered by software copyright 2000-2008 John Robinson