---
CNN: Conservative group to target Romney
CNN Political Ticker ^ | 10/05/2011 | Paul Steinhauser


Posted on 10/05/2011 12:23:09 PM PDT by Impeach98
First on CNN: Conservative group to target Romney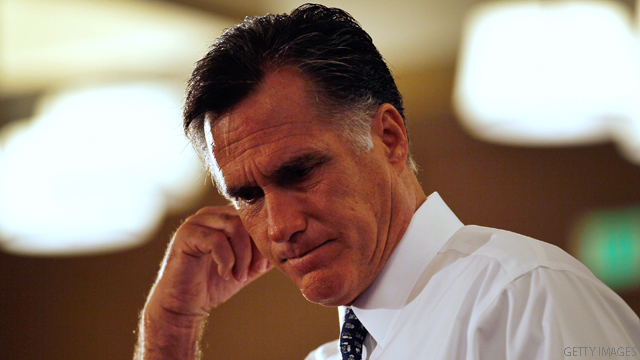 "If you support the principles of the Republican Party platform, as I do, then it's important that we make sure the GOP nominates someone who has supported and fought for those principles. On almost every single important issue facing America today, Mitt Romney has fought against conservatives and Republicans. He's been a liberal on fiscal issues, a liberal on social issues, and a liberal on national security issues," says Lloyd Marcus, Chairman of Campaign to Defeat Barack Obama, in a statement to CNN.
EXCERPTED - Read Full Story HERE
And here's the web video just released that kicks off the "Stop Mitt Romney" campaign:
Liberal Mitt's Greatest Hits - WATCH HERE
(Excerpt) Read more at politicalticker.blogs.cnn.com ...
---
TOPICS: Breaking News; Front Page News; News/Current Events
KEYWORDS: backstabberromney; badsportromnney; breaking; defeatobama; loserromney; milt; mittromney; mormon; rino; rinoromney; romney; romney2012; romneytherino; slickmitt; spoilerromney; stopmittromney; themagicrino; therinoromney; turdinthepunchbowl
---
Navigation: use the links below to view more comments.
first 1-20, 21-40, 41-60, 61-80 ... 161-175 next last
---
---
---
---
---
---
---
---
---
---
---
---
---
---
---
---
---
---
---
---
---
Navigation: use the links below to view more comments.
first 1-20, 21-40, 41-60, 61-80 ... 161-175 next last
---
---