---
Open Borders Eggheads
American Rattlesnake ^ | October 15, 2011 | Gerard Perry


Posted on 10/15/2011 8:25:18 PM PDT by OddLane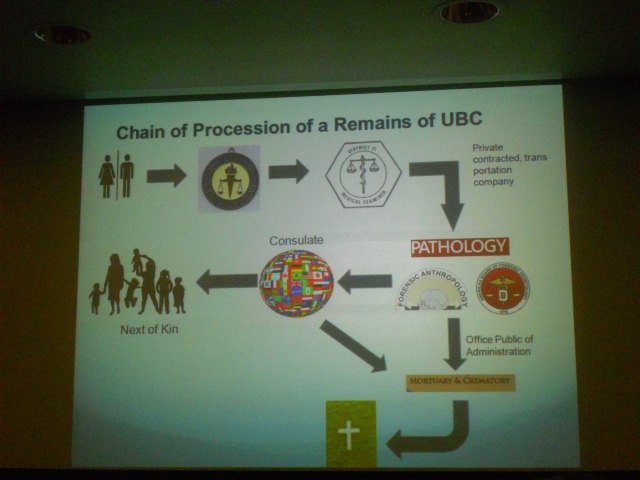 The image you see above is a flow chart describing the process by which the bodies of illegal aliens, or in the parlance of the presenter, "undocumented border crossers," found in the United States are identified and returned to their families. Or, in the case of those whose identities can not be verified, disposed of. It was part of a presentation by Luis Torrens, a student pursuing a Master's in Public Health, who was invited to address a day-long seminar hosted by the CUNY Graduate Center and the Immigration Working Group which I attended yesterday.

(Excerpt) Read more at american-rattlesnake.org ...
---
TOPICS: Foreign Affairs; Mexico; Philosophy; US: New York
KEYWORDS: americanrattlesnake; cunygraduatecenter; immigration



---
To: OddLane; Reagan Man
Wow.
Compassion is an open border. /sarc
2
posted on
10/15/2011 10:05:56 PM PDT
by
noprogs
(Borders, Language, Culture....all should be preserved)
---
To: Cacique; bcsco
3
posted on
10/15/2011 10:18:39 PM PDT
by
OddLane
(If Lionel Hutz and Guy Smiley had a lovechild together, his name would be "Mitt Romney." -KAJ)
---
To: Yehuda; justiceseeker93; GOPJ; La Enchiladita
Immigration ping.
4
posted on
10/18/2011 6:09:48 AM PDT
by
OddLane
(If Lionel Hutz and Guy Smiley had a lovechild together, his name would be "Mitt Romney." -KAJ)
---
FreeRepublic.com is powered by software copyright 2000-2008 John Robinson