---
Keystone XL: Nebraskans take pipeline issue all the way to the White House
The Guardian ^ | Thursday 10 November 2011 | Suzanne Goldenberg


Posted on 11/10/2011 3:29:56 PM PST by MinorityRepublican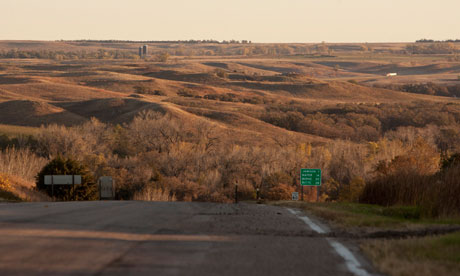 The tar sandhills near Mills in north central Nebraska, through which the Keystone XL pipeline is planned to be built.
The woman seated before the row of suited state legislators in her red Husker team hoodie was choking on tears. She had grown up on a farm in Nebraska. Her parents had grown up on farms, in the days before electricity and running water, and now she said generations of toil and sweat could be destroyed in an instant by a $7bn pipeline project.
A leak from the pipeline, which would run from the tar sands of Alberta to the refineries of Texas, could poison her land forever, Donna Roller told the hearing this week during a special session of the state legislature.
"This thing shouldn't even be built. It's wrong and it's toxic," she said. Then she went outside and collapsed against a wall, sobbing. "Somebody, something has got to stop it," she said.
On Thursday, something did. The State Department said it would review alternative routes for the pipeline to avoid ecologically sensitive areas of Nebraska.
The announcement was an unexpected victory for environmental groups and for landowners like Roller who had despaired of forcing Barack Obama to take a tough stand against the oil industry going into an election year.

(Excerpt) Read more at guardian.co.uk ...
---
TOPICS: US: Nebraska
KEYWORDS: babyboomers; bipartisan; collapse; default; liars; nimbeeches; shtf; teotwawki
---
---
---
---
---
---
---
---
---
---
---
---
---
---