---
Eurozone crisis stokes tension between Britain and Germany
The Guardian ^ | Tuesday 15 November 2011 | Patrick Wintour


Posted on 11/15/2011 5:30:52 PM PST by MinorityRepublican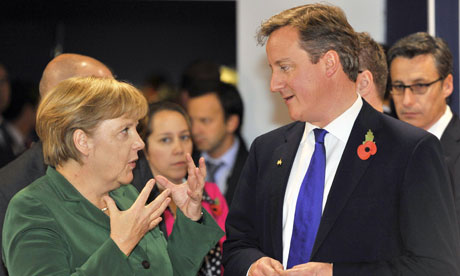 Angela Merkel and David Cameron are due to meet on Friday to discuss the eurozone crisis further.
Tensions between Germany and Britain over how to handle the crisis in the eurozone deepened after allies of the German chancellor, Angela Merkel, claimed she would not allow the UK to "get away" with its refusal to back a European financial transactions tax.
Speaking ahead of a meeting between Merkel and David Cameron on Friday, the parliamentary leader of her Christian Democratic Union said "Britain had a responsibility to make Europe a success".
Volker Kauder, at the CDU conference in Leipzig, said: "I can understand that the British don't want that [a transactions tax] when they generate almost 30% of their gross domestic product from financial-market business in the City of London. Only going after their own benefit and refusing to contribute is not the message we're letting the British get away with."
The transactions tax on shares and other City exchanges – otherwise known as the Tobin tax or Robin Hood tax – has been supported by the French president, Nicolas Sarkozy, and leading UK charities. But Britain has resisted its implementation without it being copied by the US and other leading economies.
Asked about Kauder's remarks, the prime minister's spokesman said: "There is clearly going to be a debate about Europe and the shape of Europe over the coming weeks, months and years. What we would say is that the crisis means that we should focus on the economics.
"It is very clear that countries need credible plans to deal with their debts and deficits and we shouldn't be deflected from dealing with the structural problems in European countries."

(Excerpt) Read more at guardian.co.uk ...
---
TOPICS: Germany; United Kingdom
KEYWORDS: angelamerkel; cityoflondon; davidcameron; eu; euro; nicolassarkozy; uk
---
---
---
---
---
---
---
---