---
Korea to purchase 170 stealth cruise missiles next year
The Korea Times ^ | 12-06-2011 | Lee Tae-hoon


Posted on 12/06/2011 7:10:55 AM PST by sukhoi-30mki

Korea to purchase 170 stealth cruise missiles next year
Joint Air-to-Surface Standoff Missile
Designed to destroy high value targets
By Lee Tae-hoon
Korea will purchase some 170 air-to-surface stealth cruise missiles next year capable of destroying high value targets such as military leaders or launching pads for nuclear weapons, multiple sources said Tuesday.
A National Assembly official said the government has set aside 388 billion won ($343 million) to procure 177 low-observable, long-range, precision guided stand-off missiles that can be launched from F-15Ks, F-16Ks and other advanced jets after system integration.
He said the Joint Air-to-Surface Standoff Missile (JASSM) from the American defense giant Lockheed Martin will vie with the Taurus, air-launched missile manufactured by Germany-based Taurus Systems GmbH.
"JASSM is much cheaper and easier to integrate with the existing fleet of its American aircraft, but South Korea may have no other alternative but to choose the Taurus if the U.S. Congress continues to delay the authorization for the export of JASSM," the official said.
A government source said the unit cost of JASSM was about 1.2 billion won, whereas that of the Taurus was 3 billion won when Seoul requested quotations in 2009.
"Seoul wants to introduce them as they will function as an effective deterrent against North Korea's provocations," he said. "It can be fired from Seoul and hit any targets in Pyongyang, including North Korean leader Kim Jong-il attending a massive military parade or other ceremonies, by using its GPS-aided inertial navigation system."
The plan to purchase state-of-art guided missiles gained much of its momentum after Defense Minister Kim Kwan-jin announced in March that he would alter the nation's military posture from passive defense to proactive deterrence to address the North's growing military threats.
"If the Pentagon issues the LOA (Letter of Offer and Acceptance) early next year, we plan to assess the two air-to-surface guided missiles over their performance, price and the extent of technology transfer and select the winner no later than September 2012," a senior military official said.
He said if the acquisition program runs without a hitch, the South will likely be able to deploy the first batch of missiles in late 2013.
The official, however, did not rule out the possibility of the plan being shelved if the U.S. Congress does not give a green light to the export of JASSM by June next year and if Taurus Systems GmbH continues to demand too high a price.
"The Defense Acquisition Program Administration (DAPA) may reconsider the project and push the development of indigenous air-to-surface cruise missiles if it cannot buy them at a reasonable price and secure a guarantee of substantial technology transfer," he said.
Australia is the only foreign country to have the JASSM in its inventory. Several countries, such as Finland and India, are negotiating with Washington over the sales of the fire-and-forget missile capable of destroying well-defended, fixed and re-locatable targets with pinpoint accuracy.
JASSM has an operation range of 370 kilometers and a warhead of 450 kilograms.
German and Spain operate Taurus, which can fly more than 500 kilometers with a warhead of 500 kilograms.
Morri Leland, a director of Lockheed Martin, said JASSM would be a great choice for the South as it has threats that demand certain scenarios that include hard-to-penetrate, pin-point, and heavily defended targets.
"It was specifically designed for very high threat scenarios like those Korea faces," he said.
JASSM can navigate autonomously in adverse weather, day or night to its programmed target through a preprogrammed route with the help of its anti-jam GPS and infrared seeker before destroying its target.

---
TOPICS: Foreign Affairs; News/Current Events
KEYWORDS: aerospace; lockheedmartin; rokaf; southkorea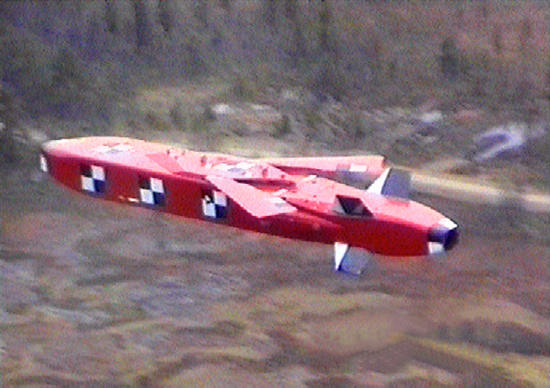 Taurus missile

---
To: sukhoi-30mki
The headline would be considerably less alarming if it specified South Korea.

2
posted on
12/06/2011 7:16:21 AM PST
by
southernnorthcarolina
("Better be wise by the misfortunes of others than by your own." -- Aesop)
---
To: southernnorthcarolina
Exactly. Another example of the MSM trying to blur the massive difference between the two Koreas. No such thing as evil to the MSM — too bad they don't see any reflection in a mirror! Hmm.
---
To: sukhoi-30mki
Designed to destroy high value targets
I didn't know there was anything of high value in North Korea...

---
FreeRepublic.com is powered by software copyright 2000-2008 John Robinson