---
To: FReepers
Click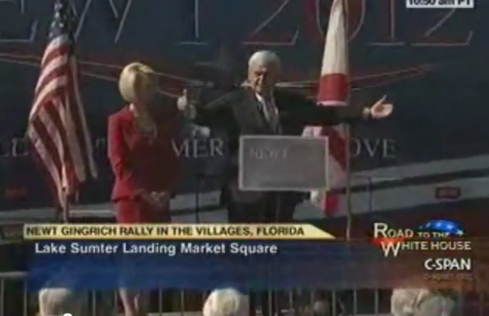 GO NEWT!
GO FREE REPUBLIC!!!
Newt Gingrich @ The Villages in Florida Sunday January 29 2012
In 1980 we were involved in a campaign like this and it was clear that we needed a conservative that was a long way from Jimmy Carter in order to win because you had to show the difference.
And I would argue, we tried a moderate in 1996 and we couldn't show the difference.
We tried a moderate in 2008 and we couldn't show the difference.
If we are going to beat Obama, he's going to have a Billion dollars and almost all of it will be used negatively because he doesn't have any posistive record to run on.
So he's gone from yes-we-can to why-we-couldn't as his theme. So we need to have someone that can show a sharp distinction.
ObamaCare and RomneyCare are about this far apart (shows about one inch.) you can't make the difference.
Where we are as Conservatives is about this far apart. Obama will not be able to hide from the difference...
---
To: RedMDer
Hewt just brought up Keystone, I would count on Newt using Keystone as a "keystone" of his campaign, I don't think Romney would as he is squishy.
---
FreeRepublic.com is powered by software copyright 2000-2008 John Robinson