---
To: EGPWS
Exactly. Lie all the time about everything, and nothing seems real.
9
posted on
02/08/2012 4:53:28 PM PST
by
Psalm 144
(Voodoo Republicans: Don't read their lips; but watch their hands!)
---
To: Psalm 144
AND Bend the rules to fit their own ambitions.
----------------------------------
After NV
Delegate tally approximately
Romney 51 Newt 45
when FL vote divided per RNC rules!
Pass the word!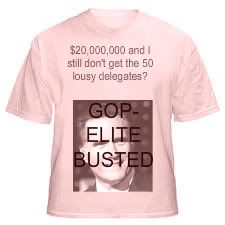 CLICK TO DONATE TO NEWT
CONTACT FOR RNC:
website@nrcc.org
310 First Street
Washington DC 20003
Encourage them to do the RIGHT thing: end the FL fiasco NOW!
Play by RULE 15:B:2
10
posted on
02/08/2012 5:02:12 PM PST
by
hoosiermama
(Stand with God and Sarah, the Gipper and Newt will be standing next to you.)
---
To: Psalm 144
If you tell the truth, you don't need to keep your story straight.
11
posted on
02/08/2012 5:02:54 PM PST
by
Cyber Liberty
("If the past sits in judgment on the present, the future will be lost." --Winston Churchill)
---
FreeRepublic.com is powered by software copyright 2000-2008 John Robinson