---
To: traditional1
Nope, it's not just you because as soon as I read it I thought, "that explains why Scalia got invited to hang out with the "cool kids". These people make me absolutely sick.

9
posted on
03/16/2012 4:01:55 AM PDT
by
liberalh8ter
(Barack has a memory like a steel trap; it's a gift ~ Michelle Obama)
---
To: liberalh8ter
"These people make me absolutely sick"
I see these things where Legislation gets shoved up our asses, or corruption is allowed to go un-punished/un-investigated (such as Eligibility), and it takes years to take it to the Courts, meanwhile BILLIONS are spent setting up beauracracies and it is NEVER un-done, and the people hired (to lower un-employment figures) are NEVER shit-canned from useless positons. Just like all the Czars that were created, and their bloated Staffs, the damage is permanent.
Regulatory bodies are created to make meaningless, un-economic, Economy-stifling Rules to appease the wacko-voters, or faggots/dykes, or Illegals, or "Holder's People", etc., and they are NEVER dis-mantled, no matter what.
To expect the USSC to rule against the already-in-place beauracracy and beaurocrats is pissing into the wind, IMHO.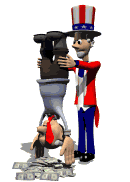 10
posted on
03/16/2012 4:41:23 AM PDT
by
traditional1
(Don't gotsta worry 'bout no mo'gage, don't gotsta worry 'bout no gas; Obama gonna take care o' me!)
---
FreeRepublic.com is powered by software copyright 2000-2008 John Robinson