Communists will use/corrupt ANY movement, even some that are diametrically opposed to their end goals, like Christianity, in order to advance their agenda.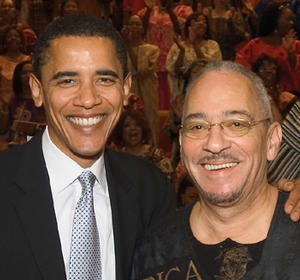 The Real Story Behind Rev. Wright's Controversial Black Liberation Theology Doctrine
Monday , May 5, 2008
FoxNews/Hannity's America
[special Friday night edition--original airdate May 2, 2008]
(some key excerpts)
["(Jose) Diaz-Balart is the son of Rafael Diaz-Balart y Guitierrez (a former Cuban politician). He has three bothers, Rafael Diaz-Balart (a banker), Mario Diaz-Balart (a US Congressman) and Lincoln Diaz-Balart (also a US Congressman). His aunt, Mirta Diaz-Balart, was Fidel Castro's first wife."
http://en.wikipedia.org/wiki/Jose_Diaz-Balart]
JOSE DIAZ-BALART, TELEMUNDO NETWORK: "Liberation theology in Nicaragua in the mid-1980's was a pro-Sandinista, pro-Marxist, anti-U.S., anti-Catholic Church movement. That's it. No ifs, ands, or buts. His church apparently supported, in the mid-'80s in Nicaragua, groups that supported the Sandinista dictatorships and that were opposed to the Contras whose reason for being was calling for elections. That's all I know. I was there.
I saw the churches in Nicaragua that he spoke of, and the churches were churches that talked about the need for violent revolution and I remember clearly one of the major churches in Managua where the Jesus Christ on the altar was not Jesus Christ, he was a Sandinista soldier, and the priests talked about the corruption of the West, talked about the need for revolution everywhere, and talked about 'the evil empire' which was the United States of America."
REV. BOB SCHENCK, NATIONAL CLERGY COUNCIL: "it's based in Marxism. At the core of his [Wright's] theology is really an anti-Christian understanding of God, and as part of a long history of individuals who actually advocate using violence in overthrowing those they perceive to be oppressing them, even acts of murder have been defended by followers of liberation theology. That's very, very dangerous."
SCHENCK: "I was actually the only person escorted to Dr. Wright. He asked to see me, and I simply welcomed him to Washington, and then I said Dr. Wright, I want to bring you a warning: your embrace of Marxist liberation theology. It is contrary to the Gospel, and you need, sir, to abandon it. And at that he dropped the handshake and made it clear that he was not in the mood to dialogue on that point."
Source: The Real Story Behind Rev. Wright's Controversial Black Liberation Theology Doctrine:
http://www.foxnews.com/story/0,2933,354158,00.html
_______________________________________________________
Obama's Church: Gospel of Hate
Kathy Shaidle, FrontPageMag.com
Monday, April 07, 2008
In March of 2007, FOX News host Sean Hannity had engaged Obama's pastor in a heated interview about his Church's teachings. For many viewers, the ensuing shouting match was their first exposure to "Black Liberation Theology"...
Like the pro-communist Liberation Theology that swept Central America in the 1980s and was repeatedly condemned by Pope John Paul II, Black Liberation Theology combines warmed-over 1960s vintage Marxism with carefully distorted biblical passages. However, in contrast to traditional Marxism, it emphasizes race rather than class. The Christian notion of "salvation" in the afterlife is superseded by "liberation" on earth, courtesy of the establishment of a socialist utopia.
http://www.frontpagemag.com/Articles/Read.aspx?GUID=30CD9E14-B0C9-4F8C-A0A6-A896F0F44F02
_______________________________________________________
Catholics for Marx [Liberation Theology]
By Fr. Robert Sirico
FrontPageMagazine.com | Thursday, June 03, 2004
In the days when the Superpowers were locked in a Cold War, Latin America seethed with revolution, and millions lived behind an iron curtain, a group of theologians concocted a novel idea within the history of Christianity. They proposed to combine the teachings of Jesus with the teachings of Marx as a way of justifying violent revolution to overthrow the economics of capitalism.
The Gospels were re-rendered not as doctrine impacting on the human soul but rather as windows into the historical dialectic of class struggle. These "liberation theologians" saw every biblical criticism of the rich as a mandate to expropriate the expropriating owners of capital, and every expression of compassion for the poor as a call for an uprising by the proletarian class of peasants and workers.
http://www.frontpagemag.com/Articles/Read.aspx?GUID=460782B7-35CC-4C9E-A2C5-93832067C7CD

read this, if you haven't:
http://www.amazon.com/You-Can-Still-Trust-Communists/dp/0936163208
Thanks for the book recommendation. Looks interesting.
Here's a review from the link:
Review
Dr. Fred Schwarz is one of America s great heroes. In his 50 years of work in the United States, he trained a whole generation to recognize the evil and the danger of Communism at home and abroad. He was a major force in building the conservative anti-Communist movement and in supporting Ronald Reagan s goal of defeating the evil empire. --Phyllis Schlafly
America is at a crossroads. Nothing could be more important to our Nation s survival as a free republic than the ideas expressed in this book. Its publication brings afresh to a new generation the work of a pioneer scholar, Dr. Fred Schwarz, and his able successor, Dr. David Noebel, in a timely way that could save America from its impending moral and economic collapse. I was first stirred to apologetic action by Dr. Schwarz a half century ago. His messages against the encroachment of Socialism are as needed now as they were then. Every able Christian should carefully ingest and courageously act upon the message of this book. --Dr. Norm Geisler
An Australian doctor said, the three basic tenets of Communism are atheism, evolution, and economic determinism. Then he said, The three basic tenets of the American Public School system are atheism, evolution, and economic determinism. Four years later Dr. Fred Schwarz wrote his masterpiece "You Can Trust the Communists (to Be Communists)." The republication of this book could not be more timely as America decides whether to follow its Christian forebearers or once again test the poisonous waters of Marx, Lenin, Mao, Castro, Alinsky, and their swarming collectivist agents and useful idiots in their relentless attempt to dethrone God and destroy Capitalism. --Dr. Tim LaHaye