---
The race is on for the Humvee's successor
DVICE ^ | March 30, 2012 | Eileen Marable


Posted on 04/01/2012 1:06:16 PM PDT by DogByte6RER

The race is on for the Humvee's successor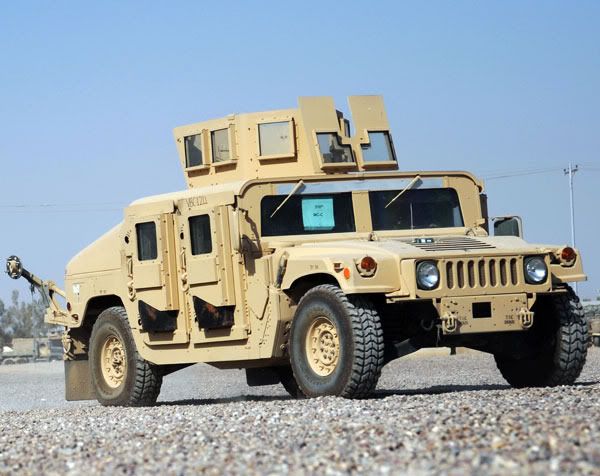 (Bye, bye Hummer)
Your Mom may still love driving a Humvee to the mall, but the military has different needs for its combat operations these days. Some 20 years after the Humvee first rolled out, the military is now entering the second phase of the project to choose its successor.
The Joint Light Tactical Vehicle (JLTV) program will be reviewing the proposals for a new vehicle, and has a pretty specific list of what it's looking for. Manufacturers getting in the game need to submit prototype designs for a seven to 10-ton truck — something that will provide adequate protection but is lighter than a fully armored vehicle.
The Humvee was designed as a general do-it-all carrier for a frontlines of warfare — much like the old standard Jeep. It was big, but it was light and was engineered to travel on varying terrain. But, as combat changed from battlefields to urban settings all over the globe, a flaw was exposed.
The Humvee had virtually no armor to protect troops inside when on start-stop type missions. When the vehicle needed to hold a location, it was extremely vulnerable.
The military compensated by adding armor and bringing on Mine Resistant Ambush Protected (MRAP) carriers. But this was also an imperfect solution. While the Humvee was nimble and could be dropped into location, these armored vehicles could not.
New combat needs are clear — a vehicle has to be secure enough to protect against explosions and ambush but light and tactical enough to go anywhere and maneuver in tight situations. After 20 years, advances in technology, design and battlefield knowledge are expected to yield a better-suited model.
Two companies are already lining up to take on the challenge.
BAE Systems' prototype resembles a shrunken tank. Clearly more armored than a Humvee, it also has a V-shaped hull to provide greater protection against mines and IEDs.
The entry from Navistar is a modification on its International Saratoga light tactical vehicle, which was launched last October. Outwardly it appears to more closely resemble the Humvee, and Navistar is touting its flexibility and ability to integrate with existing vehicles.
So, the military will have a few different options to choose from as the second stage of its search — known as the Engineering and Manufacturing Development phase — kicks off.
Manufacturers will be delivering 22 prototypes — none as wild as DARPA's flying Humvee, so far — for the Army and Marine Corps to put to the test. Three contracts for a new Joint Light Tactical Vehicle will be awarded in June.
No word on whether the Humvee will continue to churn out vehicles for civilians, but we're betting once the new military successor is crowned, someone will want one for carpool duty.
With or without armor.

---
TOPICS: Business/Economy; Foreign Affairs; Government; Miscellaneous
KEYWORDS: army; hummer; humvee; jeep; jltv; military; usmc; weaponsofwar
---
Navigation: use the links below to view more comments.
first 1-20, 21-40, 41-55 next last
---
---
---
---
---
---
---
---
---
---
---
---
---
---
---
---
---
---
---
---
---
Navigation: use the links below to view more comments.
first 1-20, 21-40, 41-55 next last
---
---