---
To: Kathy in Alaska
I will probably grow tomatoes and peppers again this season. It's all a question of how much cooperation I can get from the boys - just can't handle it myself at this stage. Even if I were in perfect health, I'm at work all day. The Toms and Peps need to be watered twice daily in the heat of summer - they can get incinerated in a single 100 degree afternoon. The roses and other ornamental plants I will of course keep going. I may need to replace a couple of plants this year - just noticed this evening that my French Tarragon is apparently not coming back. C'est la vie!



Nos genuflectitur ad non princeps sed Princeps Pacem!

Listen, O isles, unto me; and hearken, ye people, from far; The LORD hath called me from the womb; from the bowels of my mother hath he made mention of my name. (Isaiah 49:1 KJV)
43
posted on
04/12/2012 7:27:38 PM PDT
by
ConorMacNessa
(HM/2 USN, 3/5 Marines RVN 1969 - St. Michael the Archangel defend us in Battle!)
---
To: Kathy in Alaska; laurenmarlowe; BIGLOOK; alfa6; EsmeraldaA; SandRat; mylife; TMSuchman; PROCON; ...
REST IN PEACE, FALLEN BROTHER!
Cpl. Jack Leslie Stanley, British Army, Queen's Royal Hussars (The Queen's Own and Royal Irish), Died 8Apr2012 of Wounds Sustained in Afghanistan Feb2012



I have fought a good fight,
I have finished my course,
I have kept the faith.
2 Timothy 4:7 (KJV)
Flowers of the Forest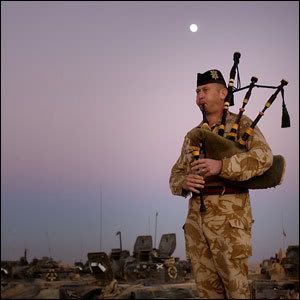 Black Watch Piper
The Soldier

If I should die, think only this of me:
That there's some corner of a foreign field
That is forever England. There shall be
In that rich earth a richer dust concealed;
A dust whom England bore, shaped, made aware,
Gave, once, her flowers to love, her ways to roam;
A body of England's, breathing English air,
Washed by the rivers, blest by suns of home.
And think, this heart, all evil shed away,
A pulse in the eternal mind, no less
Gives somewhere back the thoughts by England given;
Her sights and sounds; dreams happy as her day;
And laughter, learnt of friends; and gentleness,
In hearts at peace, under an English heaven.

Rupert Brooke


Last Post





Nos genuflectitur ad non princeps sed Princeps Pacem!

Listen, O isles, unto me; and hearken, ye people, from far; The LORD hath called me from the womb; from the bowels of my mother hath he made mention of my name. (Isaiah 49:1 KJV)
46
posted on
04/12/2012 7:33:01 PM PDT
by
ConorMacNessa
(HM/2 USN, 3/5 Marines RVN 1969 - St. Michael the Archangel defend us in Battle!)
---
FreeRepublic.com is powered by software copyright 2000-2008 John Robinson