---
To: bert; BCW
Is there really any possibility that this was "driver error?"
The closest possible east-west road on a route (not the shortest) from Tennessee to Phoenix is US-10. From google street view, here's the sign after you get off US-10 West and onto US-110 South to Juarez - before the border crossing. Can it possibly be clearer - IN ANY LANGUAGE!
---
To: drpix
I'm guessing the pallets of lead were paid before before they got 'lost'....? How would insurance claim handle this?
21
posted on
04/20/2012 6:22:32 AM PDT
by
txhurl
(Thank you, Andrew Breitbart. In your untimely passing, you have exposed these people one last time.)
---
To: drpix
Here's the sign you see to get off US-10 West and onto US-110 South - before seeing the sign in post 19.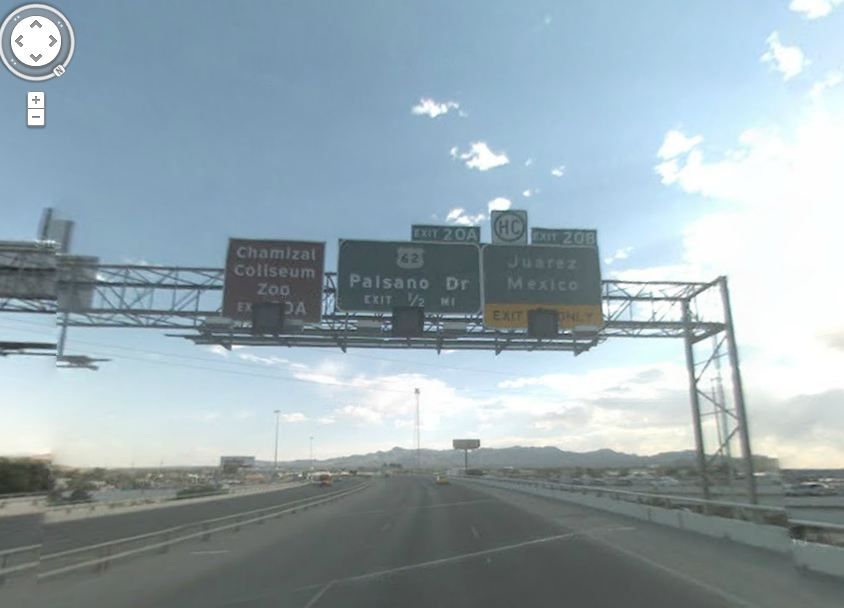 Mistake! Get real!
A real law enforement agency should already be seizing the records of all past shipments of DEMCO TRANS., and investigating where and to who they actually were delivered. As they would be investigating all its employees and tracking down all DEMCO contacts with federal agencies. And real journalists would be on the exact same trail.

---
To: drpix
ah...I see the sign above - states: NO GUNS...doesn't say anything about 200,000 rounds of ammo...good point!
I'm sure Mr Moslem knew what he was doing...
I remember when I was assigned Provost Marshall @ Victory in 2003 when a TCN driver came in - wasn't part of a convoy - said he got separated and wanted in...the trep tried to explain why he couldn't enter...and after having a close talk with a M9 he got the point...got in and drove off...this was before they started the VBIED campaign...but I was highly certain it was a trial run to see if they could get in on a pathetic excuse...
Like the photo you just posted — he knew what he was doing...
---
FreeRepublic.com is powered by software copyright 2000-2008 John Robinson