---
To: Cincinatus' Wife
FOX "News"'s #1 Romney-Pimp and Anchor-Wife-in-Training:
"We at FOX do not care about how Romney does.
If he fails, we are never gonna talk about it.
And YOU won't find us revealing that
Romney, himself, imposed RomneyCARE AND
gay marriage AND covered up the BIG DIG.
Why? Because Mitt Romney has the perfect height.
And his feet are the perfect shape.
And his hair is perfect, too.
Willard smells so good, that Brit Hume
and I tingle together.
Most importantly, Hume and I respect that he partners with Soros.
Master Romney we will forever be the "frontrunner"
here at FOX/BAIN News
… even when every one of you laugh on the floor knowing
it is obviously not true."

3
posted on
04/24/2012 3:19:47 AM PDT
by
Diogenesis
("Freedom is never more than one generation away from extinction. " Pres. Ronald Reagan)
---
To: Diogenesis
name the conservative regularly on FOX News - you can't because there are none - they claim Mondale's speechwriter amongst their conservative stable by surrounding him with liberals and RINOs
Now they've hired the spawn of Jessie Jackson who has never done anyting in her life but will spew talking points as an in-house pundit
Has FOX News 'Jumped The Shark' Over Mitt???
I for one have had enough of the 'wisdom' of Bill Kristal, Chas. Krauthammer, Ted Baxter, Bret Beahr, Toyko Rove, Ann Colter, Chris Wallace, Sean Wannabe, Dana Parino, Brit Hume, Shep Smith, Judge Jeanine, Alan Comes, Bob Beckle, Juan Williams, Whoraldo, P.T. Trump, et. al. all acting the part of the Romney cheerleading squad
Does anyone else 'feel my pain'?
There is clearly a hunger and a market for honest news and honest conservative news - and it is clearly not FOX
with apologies to Ted Knight ….Find O'Reilly:
---
To: Diogenesis; KoRn; All
November 27, 2011:
N.H. Union Leader backs Gingrich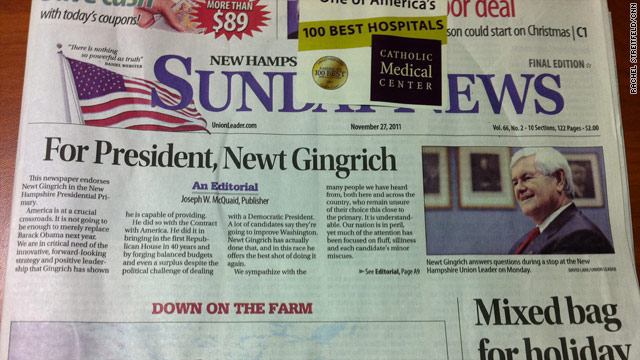 April 24, 2012: 4 minute video - Newt Gingrich Web Address: Vote To Protect Marriage in North Carolina

---
FreeRepublic.com is powered by software copyright 2000-2008 John Robinson