---
To: Future Snake Eater; Travis McGee
Total fake. Just zoomed in on the firearm portion. FAKE AS HELL. It's a short Ar-15 upper. No receiver, no area for the bolt, no place for feeding ammo, no linkage to any ammo at all. The only mount is a rail-mount that puts the device on the bottom of the 'rotor.
Look for yourself.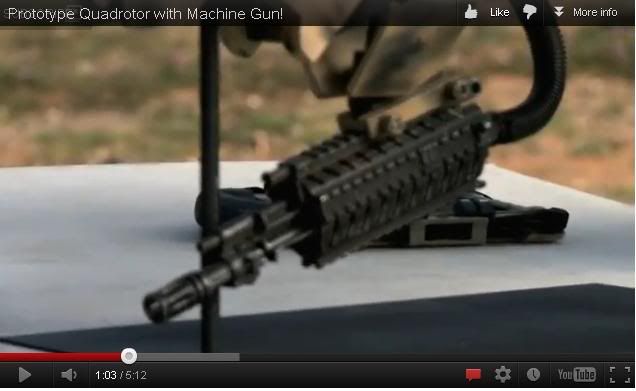 11
posted on
04/25/2012 11:09:05 AM PDT
by
Lazamataz
(Admin Moderator refuses to let me hit it. -- http://www.freerepublic.com/focus/chat/2875871/posts)
---
To: Lazamataz; ctdonath2; Travis McGee
That plus the instant takeoff capability, the choppy shadows, the slight shake of the copter that's a hallmark of a not-quite-good-enough matchmover solution (though it is pretty good). I did notice the rotors swirling in the smoke at one point, so he may have had an actual copter there for some of the shots, or he just used a little smoke simulator and physics simulator action to fake it—I'm not sure which.
It's clear from his intro graphic that this guy knows a thing or two about CG, and he's applied it here for an entertaining video.
14
posted on
04/25/2012 11:15:41 AM PDT
by
Future Snake Eater
(If we had a President, he'd look like Newt.)
---
To: Lazamataz
It's not even an upper, but a picatinny rail fore end some tubing and a flash hider.
---
To: Lazamataz
46
posted on
04/26/2012 9:23:10 PM PDT
by
devolve
(---- --------what`s that in your pocket? $4000 less than in 2008----------)
---
FreeRepublic.com is powered by software copyright 2000-2008 John Robinson