---
(Hope & Change) Transient Stabbed in Fight Over PBJ Sandwich
U-T San Diego ^ | Saturday, April 28th 2012 | U-T San Diego


Posted on 04/28/2012 2:26:47 PM PDT by DogByte6RER

Transient stabbed in fight over PBJ sandwich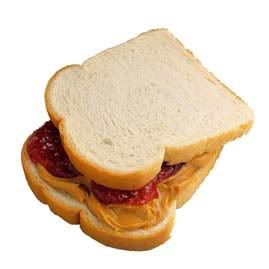 SAN DIEGO — One downtown transient stabbed another in the head in a fight over a peanut butter and jelly sandwich Friday, San Diego police said.
The two men fought over the sandwich on Union Street near A Street about 6:30 p.m., police Officer David Stafford said.
One of the men pulled out a pen and stabbed the other man in the head. Paramedics took the victim to a hospital, where he is expected to recover. The other man went to jail, Stafford said.

---
TOPICS: Crime/Corruption; Culture/Society; Miscellaneous; News/Current Events; US: California
KEYWORDS: bumfights; crime; hopeandchange; hungergames; obamanomics; obamaville; pbj; peanutbutterjelly; policeblotter; ratcrime; sandiego; weird
---
---
---
---
---
---
---
---
---
---
---
---
---
---
---
---
---
---