---
Brave New World (is Here!)
New York Post ^ | April 28, 2012 | KYLE SMITH


Posted on 04/29/2012 9:16:09 AM PDT by DogByte6RER

Brave New World (is Here!)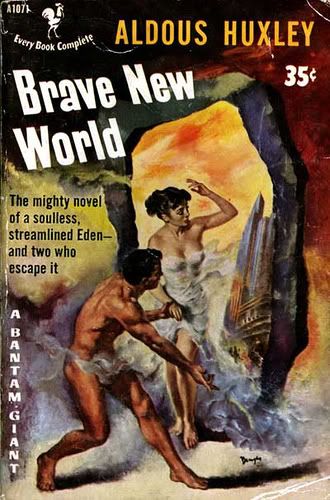 If Orwell's "1984" is a cautionary tale about what we in the capitalist West largely avoided, Aldous Huxley's "Brave New World" is largely about what we got — a consumerist, post-God happyland in which people readily stave off aging, jet away on exotic vacations and procreate via test tubes. They have access to "Feelies" similar to IMAX 3-D movies, no-strings-attached sex, anti-anxiety pills and abortion on demand. They also venerate a dead high-tech genius, saying "Ford help him" in honor of Henry Ford just as today we practically murmur "In Jobs We Trust."
In many ways the book, which was published 80 years ago this winter, has become sci-non-fi. It is still developing, taking on additional richness according to the times in which we read it.
"Brave New World" is a satire set in a unified and peaceful 26th-century "World State" in which a frustrated London loner named Bernard Marx feels unease with the serene functionality of the ingeniously well-ordered society around him. After a chance encounter on vacation, he brings to London a Shakespeare-loving "savage" named John from outside the tech bubble (he grew up untouched by modernity on an Indian reservation in New Mexico) who becomes even more distraught by what has happened to mankind.
The book isn't nearly as political or as outspokenly dire as "1984," so much so that it's easy to picture a young reader saying, "What is supposed to be so bad about all this?" Unlike in the book by Orwell (Huxley's pupil at Eton), in which independence of mind earns you torture and brainwashing, Huxley's freethinkers are threatened with expulsion to a small island (Iceland) —

(Excerpt) Read more at nypost.com ...
---
TOPICS: Business/Economy; Constitution/Conservatism; Crime/Corruption; Culture/Society; Editorial; Government; Philosophy
KEYWORDS: 1984; aldoushuxley; ameritopia; biggovernment; bravenewworld; dystopia; georgeorwell; godless; huxley; liberalfascism; newworldorder; nineteeneightyfour; socialism; socialutopia; socialutopianism; soma
---
Navigation: use the links below to view more comments.
first 1-20, 21-32 next last
---
---
---
---
---
---
---
---
---
---
---
---
---
---
---
---
---
---
---
---
---
Navigation: use the links below to view more comments.
first 1-20, 21-32 next last
---
---