---
Anyone else remember this? Obama uses troops for photo ops...by his own admission.
Sleaze on parade.

---
To: SoFloFreeper
The difference .........
between mutual admiration and affection ......
and a friggin' disrespectful photo op .....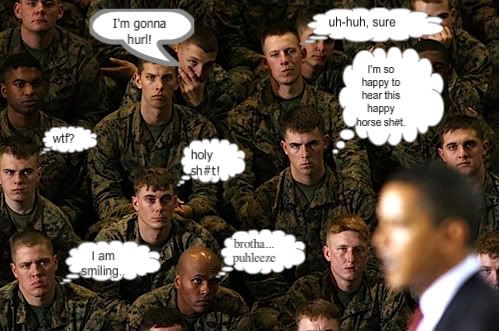 is GLARING!!!

---
To: SoFloFreeper
I'd rather be on KP or cleaning latrines.
---
To: SoFloFreeper
I'd love to go see the POTUS sarge, but don't you remember, you made me PLO, Permanent Latrine Orderly? It's the first of the month and I have to scrub all the commodes with that tooth brush you gave me.
---
To: SoFloFreeper
From Drudge.. if eating.. Look away! Look away!
Obama saluting.. which election year "candid" photo has the greatest hurl?
The Clinton WH raised hell with the MSM for publishing the photo of the Clinton's "private" moment alone. I bet the Obama WH raises hell for the MSM publishing his "private-moment sacred" salute to our military -- which will find its way into every "news" report until election day.
Ready...
hurl!

5
posted on
05/02/2012 6:09:19 AM PDT
by
WilliamofCarmichael
(If modern America's Man on Horseback is out there, Get on the damn horse already!)
---
To: SoFloFreeper
He reminds me so much of that movie.....what was it now.....Henry V?......no......I remember!......PEE WEE'S BIG ADVENTURE.....wasn't Chris Matthews LARGE MARGE in that movie?
6
posted on
05/02/2012 9:14:24 AM PDT
by
blueunicorn6
("A crack shot and a good dancer")
---
FreeRepublic.com is powered by software copyright 2000-2008 John Robinson