~ The FReeper Canteen Presents ~
~ Remembering Our Troops!! ~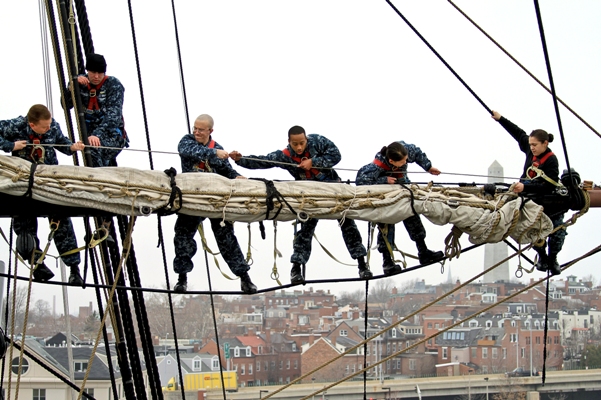 CONSTITUTION MAST
Navy sailors place the sail on the yard of the mizzenmast aboard USS Constitution in Charleston, Mass., March 14, 2012. The sailors assigned to the Constitution routinely work to improve seamanship skills to prepare for possibly sailing the ship during the bicentennial of the War of 1812. U.S. Navy photo by Petty Officer 2nd Class Thomas Rooney







Canteen Mission Statement
Showing support and boosting the morale of
our military and our allies' military
and family members of the above.
Honoring those who have served before.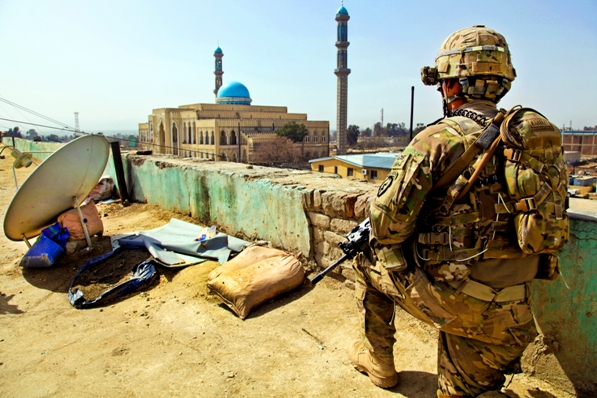 ROOFTOP SECURITY
U.S. Army Staff Sgt. Christian Aleman provides security on the Khowst Prevention Headquarters in Khowst City in Afghanistan's Khowst province, March 5, 2012. Aleman is assigned to 2nd Battalion, 377th Parachute Field Artillery Regiment. Coalition forces talk weekly about ways to work better and increase support of one another for the security of the province's residents. U.S. Army photo by Spc. Phillip McTaggart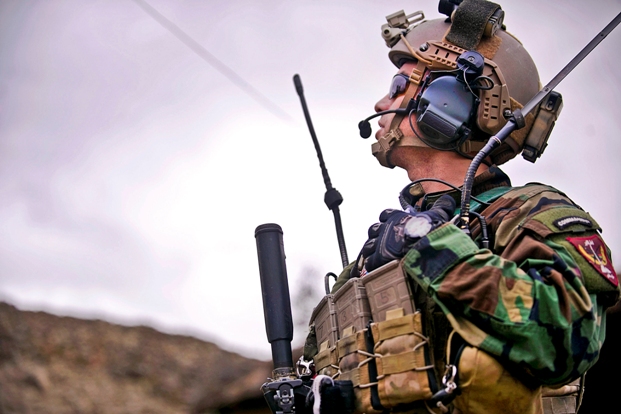 KUNAR FIREFIGHT
A combat controller coordinates close air support during a firefight in which coalition and Afghan commandos joined forces in the Sar Kani district of Afghanistan's Kunar province, March 7, 2012. U.S. Navy Petty Officer 2nd Class Clayton Weis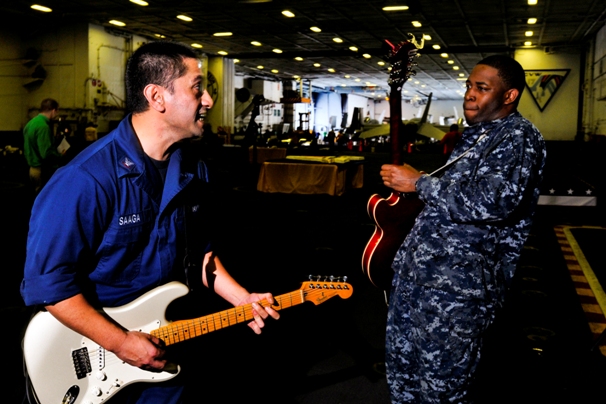 ROCK ON WATER
Navy Petty Officers 3rd Class Robert Saaga, left, and Enyiomadi Chuta, right, play guitar in the hangar bay of the USS Carl Vinson, March 13, 2012, as part of a celebration marking the 30th anniversary of the ship's commissioning. The ship is under way in the Arabian Sea. U.S. Navy photo by Seaman Apprentice Andrew K. Haller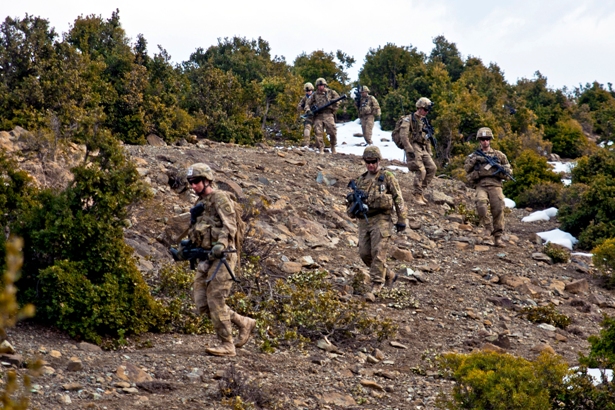 PAKTYA PATROL
U.S. Army soldiers descend a mountaintop in the Paktya province while surveying a site for an observation post near the Enzarkay Pass, Afghanistan, March 2, 2012. The soldiers are paratroopers assigned to Company A, 3rd Battalion (Airborne), 509th Infantry Regiment, Task Force Gold Geronimo. U.S. Army photo by Staff Sgt. Jason Epperson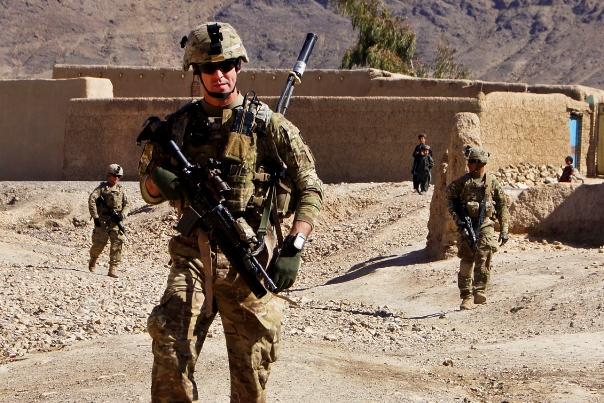 ROCKY ROAD
U.S. Army Sgt. Jason Eley makes his way down a rocky road to visit Afghan police near Combat Outpost Jannat, Afghanistan, March 9. Eley is an armor crewman assigned to the 4th Infantry Division's Company A, 1st Battalion, 67th Armor Regiment, 2nd Brigade Combat Team. U.S. Army photo by Sgt. April York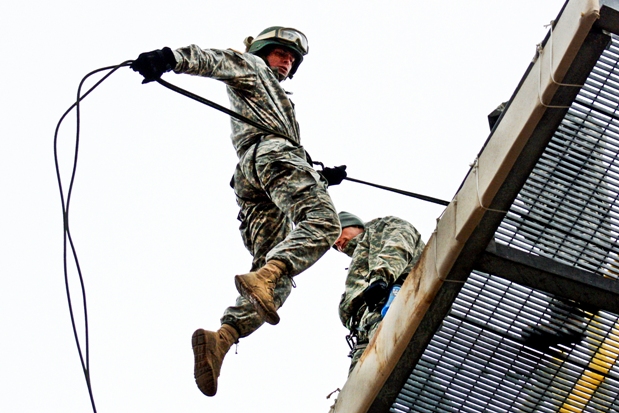 TOP LEAPER
Missouri National Guardsman Cadet Andrew Cully leaps from the top of the rappel tower during part of the Guard's first Air Assault School on Camp Crowder, Mo., March 8, 2012. Cully earned the title of honor graduate for having the second-best performance of the school's 105 graduates. U.S. Army photo by Matthew J. Wilson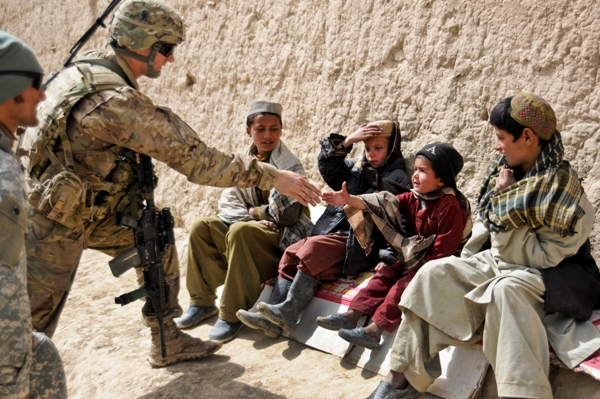 STREET SHAKE
U.S. Army 2nd Lt. Jeffery Russell greets Afghan children in the village Sader Kheyl, Afghanistan, March 17, 2012. Russell is a platoon leader assigned to Company B, 3rd Battalion, 509th Infantry Regiment. U.S. Army photo by Staff Sgt. Jason Epperson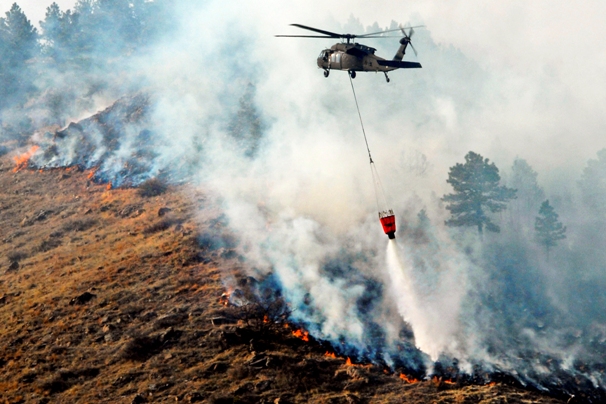 BUCKET BRIGADE
A South Dakota Army National Guard UH-60 Black Hawk helicopter drops 600 gallons of water on a fire in Rapid City, South Dakota, March 9, 2012. The helicopter crew is assigned to the Army National Guard Aviation Support Facility. U.S. Army photo by Master Sgt. Don Matthews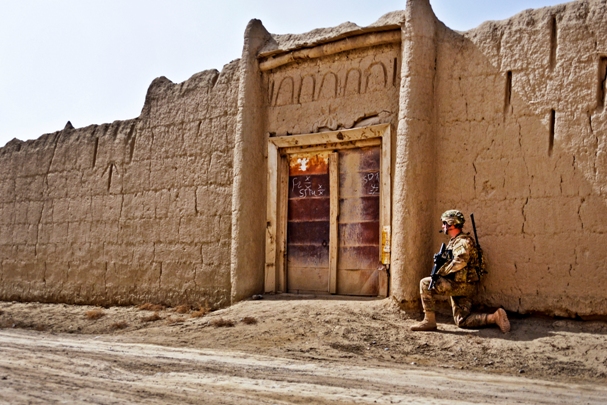 GATE GUARD
U.S. Army 1st Lt. Seth Curry secures an entrance in the village of Sader Kheyl near Combat Outpost Rahman Kheyl, Afghanistan, March 17, 2012. Curry is an executive officer assigned to Company B, 3rd Battalion, 509th Infantry Regiment. U.S. Army photo by Staff Sgt. Jason Epperson

Please remember that The Canteen is here to support
and entertain our troops and veterans and their families,
and is family friendly.