---
To: GingerC
Yes, you have to wait some time until they finally showed the parents—from the back. They are "of Middle-Eastern descent," the reporter says. And the woman is wearing a hijab.
FWIW, there have been cases where bombs have been strapped to Muslim infants.
The story also says that this child is a frequent flyer. This time to Florida. No comment on where else, or whether her parents usually accompany her.
This actually makes a bit more sense than most of the tales about Homeland security abuses.
---
To: Cicero
"Well, it's not you or your husband. Your daughter was flagged as no fly."
Yeah, that's the ticket. The mother is wearing a hijab, but tell 'em it's the kid. Maybe the toddler is packing an explosive load in her diapers.

---
To: Cicero
The koranimals are not above murdering children.
Mohamed commands his slaves to murder by any means. Mohamed commits mohamicide.
Murdered by isalm
Toulouse 2012 March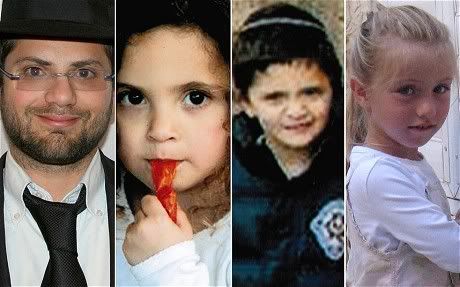 13
posted on
05/10/2012 8:27:33 AM PDT
by
rawcatslyentist
("Behold, I am against you, O arrogant one," Jeremiah 50:31)
---
To: Cicero
Probably just bred for a useful tool should the occasion arise.
25
posted on
05/10/2012 10:30:16 AM PDT
by
TribalPrincess2U
(Criminaliens or Crimigrants...0bamao's people?)
---
FreeRepublic.com is powered by software copyright 2000-2008 John Robinson