---
To: mandaladon
Foley sucks up a $146,000 salary PLUS; and a post-LV $1000 bonus (for creativity in bilking taxpayers?).

One of the hundreds of snapshots posted on an internal GSA website of the $823,000, four-day affair in Las Vegas in 2010.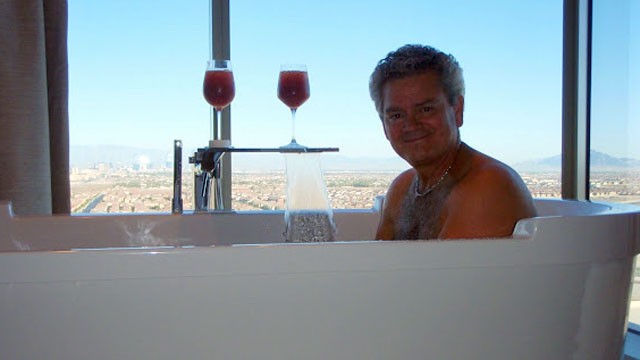 GSA official Jeff Neely photos posted on Google Plus by his wife Deborah enjoying Wine and Soak in Spa Tub at posh Hotel During one of several tax-paid "Pre-Conference" Meetings. Apr 16, 2012. The eight pre-conference trips alone cost the government $130,000, according to the GSA investigation.
Neely also traveled to several other luxury resorts and to Hawaii. About 115 expensive IPads--- listed as "prizes" for the LV conference are missing---one was traced to Neeley's daughter who apparently does not work for the GSA. Inspector General Brian Miller has referred this case to the DOJ for possible criminal investigation.
===========================================
Notice how practiced they are at govt fraud....indicating this was done over and over. Probably there is an internal Govt Fraud Network with all of 'em colluding in ways to bilk the taxpayers?
ITEM Martha Johnson was forced to resign as GSA chief---she apparently had millions of tax dollars just laying around---so she spent an incredible $820,000 for the conference. Among the expenditures she okayed: $31,000 for a "networking reception," $146,000 for catered food and drinks, as well as $130,000 in expenses to "scout" the conference's hotel location.
ITEM Apparently, Johnson's advance team had to travel to Vegas six times to get a handle on where best to discuss GSA business and eat $4 a piece shrimp at a "cocktail party." Cheese trays at the LV party cost $19 per person, and the sushi station, another $7,000. After all that partying, the govt employees who were still hungry the next morning, got breakfast for $44 per person.
ITEM One fired official "knew nothing." He testified to Congress that he didn't know taxpayers would be billed $1,960 for a party in his luxury suite at the posh Las Vegas resort.
ITEM Robert Peck said he had paid for some food out of his own pocket and was "surprised" when additional food arrived - eventually paid for by taxpayers. "Know Nothing Peck" ended up handing out at least one $9000 bonus (that we know of) to one of the fraudsters...."for services rendered."

---
10 Insanely Overpaid Public Employees
By BLAIRE BRIODY, The Fiscal Times, July 13, 2011
When it comes to government employees, there's plenty of news about laid off social workers in Florida, furloughed forest rangers in Minnesota, and underpaid teachers everywhere else. Yet even during these hard times, there are thousands of government employees who still earn great, big salaries – many of them hundreds of thousands more than the $400,000 Obama pulls down each year.
In 2009, 347 Texas state employees earned more than the president; 53 of them made more than $600,000. In New York, 35 employees were paid over $400k last year.
Since 2005, the number of Federal employees earning $150,000 plus has jumped tenfold: going from 12,399 to 171,689. Much of the increase has been in medicine. Doctors at veterans hospitals and prisons averaged $179,500 in 2010, up from $111,000 in 2005.
=================================================
See slideshow on 10 insanely overpaid government employees. We reported all their yearly earnings, which in addition to base salary, includes bonuses, overtime pay, and other pay. The "other pay" can be things like unused sick days--$594,976 worth of them for one California employee – something private sector employees could only dream of.
http://www.thefiscaltimes.com/Articles/2011/07/13/10-Insanely-Overpaid-Public-Employees.aspx#page1
Photo Gallery: 8 Outrageously Cushy Government Pensions

---
FreeRepublic.com is powered by software copyright 2000-2008 John Robinson