---
Gay Pride: don't rain on my parade [Barf alert - in your face homosex encouraged]
The Guardian ^ | June 8, 2012 | Brian Moylan


Posted on 06/08/2012 10:56:07 AM PDT by kevcol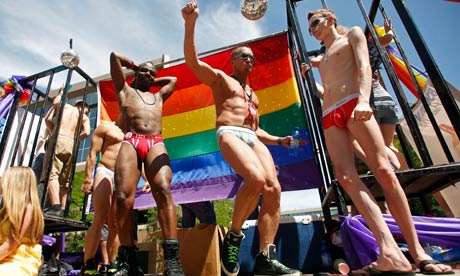 The milquetoast gay activists are worried about the "front lines of the Gay Pride parade". You know the ones – fleets of drag queens, dykes on bikes, and twinks gyrating in boas and glitter. These are the ones that always turn up in newspaper photos and on the nightly news as some sort of condemnation of our "lifestyle choice" in the red states and just as pretty pictures on the coasts.

Activists are always upset these party-mad zealots will turn off the straight people with their outrageousness and keep us from achieving equality. I think those are exactly the people that the rest of mainstream culture needs to see. It's easy to accept attractive, affluent, normal couples in their matching sweater vests (which seem to be a hit with both square gay men and lesbians) but it's another thing to accept a 50-year-old man who is choosing to let his rear end hang out of his leather chaps. If they can come to see that he's not ashamed to be himself in public, maybe they won't be ashamed of him either.
.
.
.
Now we have a president who supports marriage equality for all Americans. Let's give those "front lines" of the parade a chance to celebrate. Let all their freak flags fly and dare mainstream society to accept us, "assless chaps" and all. After all, it's acceptance that we're after, not mere tolerance.

And if anyone has a problem with that – gay, straight, or otherwise – then it's you that needs to keep evolving. It's you that's part of the problem.

(Excerpt) Read more at guardian.co.uk ...
---
TOPICS: Constitution/Conservatism; Culture/Society; News/Current Events
KEYWORDS: gaypride; homonaziagenda; homosexualagenda; obama; perverts
---
---
---
---
---
---
---
---
---
---
---
---
---
---
---
---
---