---
The Disastrous Consequences of a Euro Crash
Spiegelonline ^ | 6/25/2012 | SPIEGEL Staff


Posted on 06/25/2012 11:56:28 PM PDT by bruinbirdman

As the debt crisis worsens in Spain and Italy, financial experts are warning of the catastrophic consequences of a crash of the euro: the destruction of trillions in assets and record high unemployment levels, even in Germany. By SPIEGEL Staff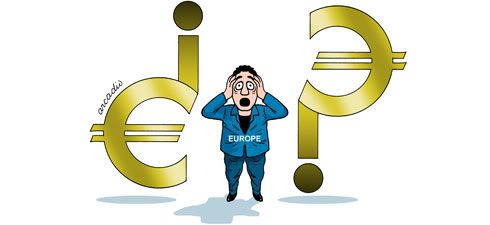 Collapse of Currency a 'Very Likely Scenario'
Investment experts at Deutsche Bank now feel that a collapse of the common currency is "a very likely scenario." German companies are preparing themselves for the possibility that their business contacts in Madrid and Barcelona could soon be paying with pesetas again. And in Italy, former Prime Minister Silvio Berlusconi is thinking of running a new election campaign, possibly this year, on a return-to-the-lira platform.
Nothing seems impossible anymore, not even a scenario in which all members of the currency zone dust off their old coins and bills -- bidding farewell to the euro, and instead welcoming back the guilder, deutsche mark and drachma.
It would be a dream for nationalist politicians, and a nightmare for the economy. Everything that has grown together in two decades of euro history would have to be painstakingly torn apart. Millions of contracts, business relationships and partnerships would have to be reassessed, while thousands of companies would need protection from bankruptcy. All of Europe would plunge into a deep recession. Governments, which would be forced to borrow additional billions to meet their needs, would face the choice between two unattractive options: either to drastically increase taxes or to impose significant financial burdens on their citizens in the form of higher inflation.
A horrific scenario would become a reality, a prospect so frightening that it ought to convince every European leader to seek a consensus as quickly as possible. But there can be no talk of consensus today. On the contrary, as the economic crisis

(Excerpt) Read more at spiegel.de ...
---
TOPICS: Business/Economy; Crime/Corruption; Foreign Affairs; News/Current Events
KEYWORDS:
---
Navigation: use the links below to view more comments.
first 1-50, 51-82 next last
---
---
---
---
---
---
---
---
---
---
---
---
---
---
---
---
---
---
---
---
---
---
---
---
---
---
---
---
---
---
---
---
---
---
---
---
---
---
---
---
---
---
---
---
---
---
---
---
---
---
---
Navigation: use the links below to view more comments.
first 1-50, 51-82 next last
---
---