---
To: Conservative Vermont Vet
But, but, CERTAINLY all this talk about Dear Leader, Islam, Sharia, is nuttin' but "Scare Mongering" as tis is the United States of America; we are a "Representative Republic" and our "Laws" and "Constitution" trumps all and this could NEVER happen here, right?
RIGHT???
Well, someone want to explain how this new "Policy/Directive" came to be, at the DIRECTION from the White House as a result of the "INADVERTENT" burning of some Qur'ans?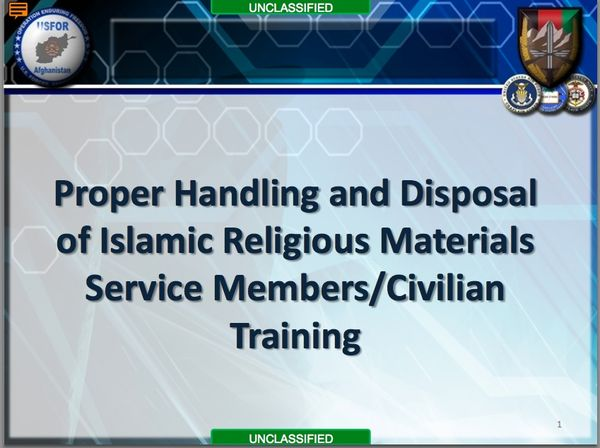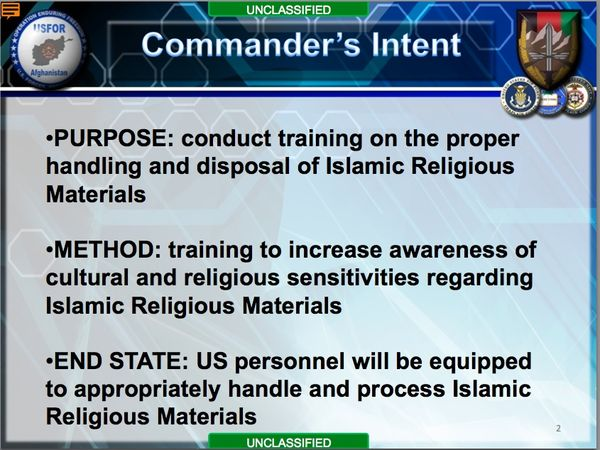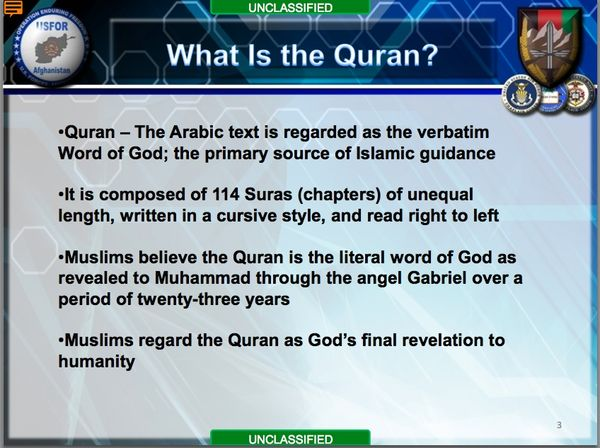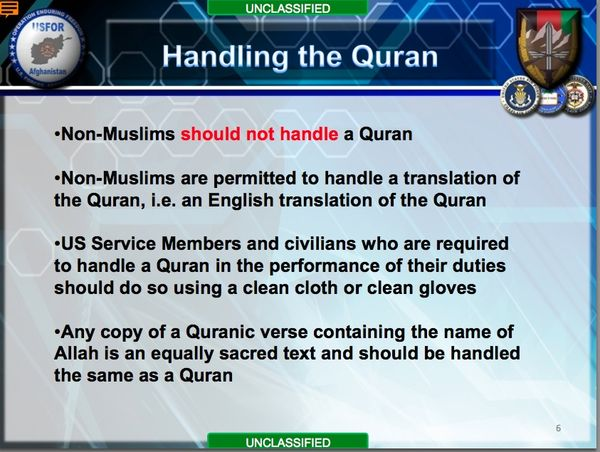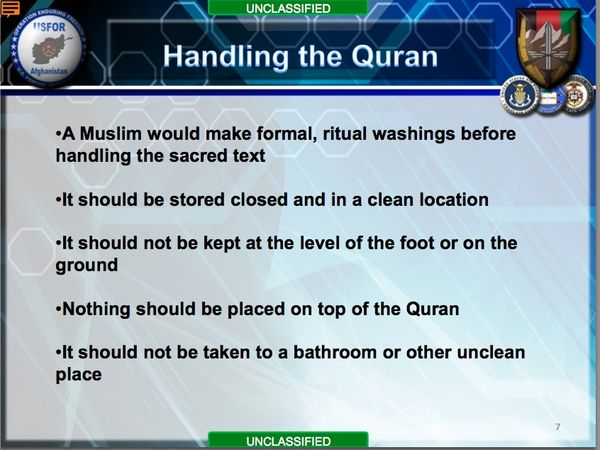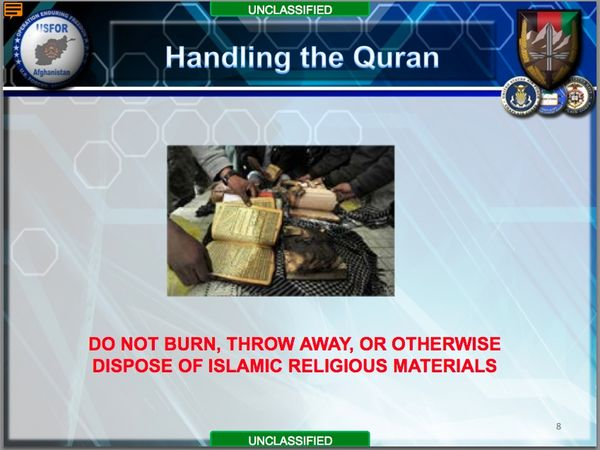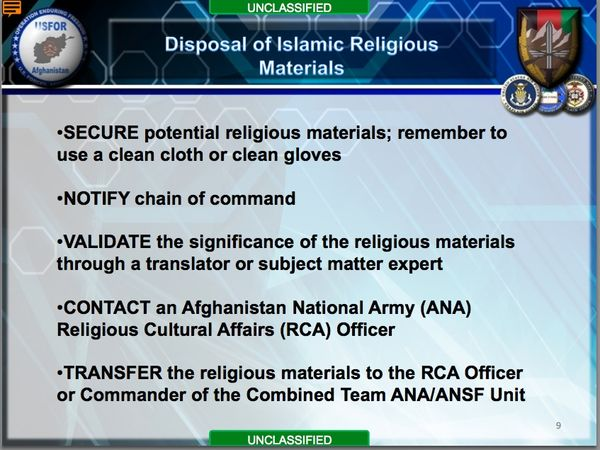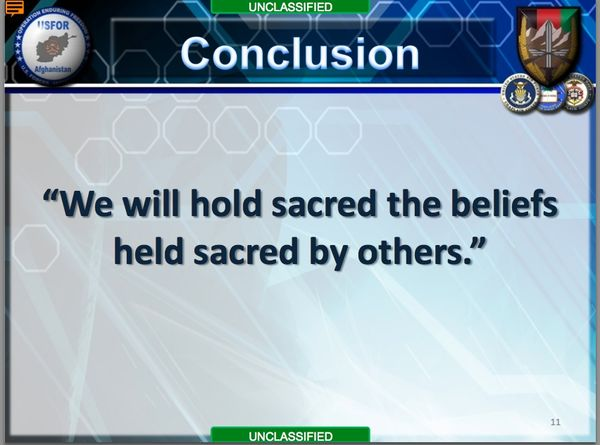 And this is the "results:"
SEE: Punishment Recommended For Troops Who Burned Koran
Six U.S. soldiers and one sailor are facing disciplinary action for their role in accidentally burning Korans at a military base - an event that sparked violent protests in Afghanistan.
The Washington Post reports military investigators have recommended administrative discipline for the seven troops. No criminal charges will be filed.
It's now up to Army and Navy officials to decide whether or not to punish the Koran-burning service members.
Ok: I challenge anyone to find ANYWHERE in the United States Code or the Uniform Code of Military Justice whereby it is an "OFFENSE" to burn/destroy/damage a "Qur'an?"
Conclusion: Our Fascist Dear Leader (aided and abetted by a bunch of wuss, REMF, Armchair, Asshat, JCS at the Pentagon) have (via a DIKTAT) ordered "SHARIA" to trump our Laws/Constitution and I challenge anyone to dispute this assertion!
This is all part and parcel with "Creeping Sharia" (Incrementalism) as well as "Civilization/Stealth Jihad" being implemented under out noses (and NOT even, so subtely) and anyone who doubts or denies this, needs to take their blinders off.
What's next?
Will there be stonings of adulteresses, amputations of the hands of thieves, and beheadings of apostates from Islam and blasphemers of Muhammad on the Mall? If you think these are absurd questions, consider that these are all elements of the same Islamic law that Obama has now vowed to enforce in regard to the burning of the Qur'an. Meanwhile, Secretary of State Clinton has held a closed-door meeting with the Secretary-General of the Organization of Islamic Cooperation (OIC) in order to discuss strategies for enforcing Sharia restrictions on free speech regarding Islam in Western countries. Obama's Justice Department has gone to court more than once to compel American businesses and educational institutions to change the way they operate in order to accommodate particularities of Islamic law and practice. ..
….Moreover, both the FBI and DOD have "invited" several Muslims--who have ties to the Muslim Brotherhood—to "scrutinize" our Training Material and as a result of their "recoomendations" have "scrubbed" ALL reference to "Radical Muslims," "Jihad," "Islamic Terrorists" etc., or ANYTHING else which in any way, might "OFFEND" the practitioners of the "Religion of Pieces."
IF BURNING THE QUR'AN IS NOW A CRIME FOR AMERICANS, AND WE ARE THUS NOW SUBJECT TO ISLAMIC LAW, HOW MUCH SHARIA ARE WE UNDER? TO WHAT EXTENT HAVE WE CAPITULATED? WHERE DOES OBAMA DRAW THE LINE, IF ANYWHERE?

---
To: Conservative Vermont Vet
Where does Obama draw the line?Why,right on our necks and it's labeled "cut here".
34
posted on
06/27/2012 5:59:04 AM PDT
by
Farmer Dean
(stop worrying about what they want to do to you,start thinking about what you want to do to them)
---
To: Conservative Vermont Vet
Look for more Americans to simply "disregard" the no buring of the Koran ruling.
38
posted on
06/27/2012 6:15:33 AM PDT
by
Biggirl
("Jesus talked to us as individuals"-Jim Vicevich/Thanks JimV!)
---
To: Conservative Vermont Vet
Well THAT made my blood boil. It is not hard to see why there are hundreds of no-go zones in France and why Sweden is becoming a Muslim nation.
The West just surrenders out of PC.
Screw PC. I want to fight back.
---
To: Conservative Vermont Vet
"We will hold sacred the beliefs held sacred by others"
...except for Christians.
65
posted on
06/27/2012 7:23:42 AM PDT
by
CodeToad
(Homosexuals are homophobes. They insist on being called 'gay' instead.)
---
FreeRepublic.com is powered by software copyright 2000-2008 John Robinson