---
To: TheOldLady; Cyber Liberty; CatherineofAragon; Slings and Arrows; Responsibility2nd; doorgunner69; ..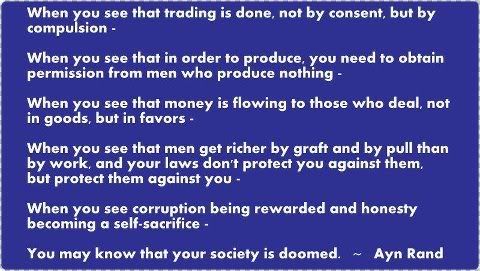 The Official Lazamataz Sometimes-Funny, Sometimes-Disturbing Ping List
111 Satisfied Customers!™

2
posted on
06/29/2012 6:42:55 AM PDT
by
Lazamataz
(People who resort to Godwin's Law are just like Hitler.)
---
To: Lazamataz
There are a lot of Rand haters around here, but that piece from Atlas Shrugs is dead on the money. Well done, Laz.
5
posted on
06/29/2012 6:49:42 AM PDT
by
Lurker
(Violence is rarely the answer. But when it is, it is the only answer.)
---
To: Lazamataz
Well written as always. My thought was of poor old Lazar M. Kaganovich, Stalin's railway boss and sometimes oppressor of kulaks in the Ukraine (gotta have a hobby, you know). Iron Lazar had the misfortune to live into his 90's and watch the collapse of the system he built. His last words were uttered while watching on TV the violence around the parliament building in Moscow. They were "It's a catastrophe!" Then he died.
Now, I'm not gonna die and I'm not an oppressor of kulaks, but I do know how old Lazar felt. What has happened to our country is a catastrophe. It's not just health care, it's the EPA, the trial lawyers, the worship of homosexuality in our public institutions, and the creation of a permanent unproductive underclass of moochers.
I am ashamed of my country and my people. I will not fly Old Glory next Wednesday, and may not do so again. I just cannot support the government that recognizes no obligation to serve or protect me, and has no sense of restraint in the exercise of it's power over me. Instead it only exists to exploit and oppress me. I too am a student of history. German history. No German in 1925 would have considered stuffing all the Jews into ovens. Twenty years later they had done that to six million of them. After the nightmare was over they all wrung their hands in self-pity asking "how could we have let this happen?"
Someday, will the American people have to ask the same question?
PS: Please make me #112 on your list.
---
To: Lazamataz
We are fast approaching the stage of the ultimate inversion: the stage where the government is free to do anything it pleases, while the citizens may act only by permission; which is the stage of the darkest periods of human history, the stage of rule by brute force. - Ayn Rand
26
posted on
06/29/2012 7:14:59 AM PDT
by
Red Badger
(Think logically. Act normally.................)
---
To: Lazamataz
Brilliant essay, perfect quote. Sad situation.
Please add me to your ping list.
---
To: Lazamataz
---
FreeRepublic.com is powered by software copyright 2000-2008 John Robinson