---
To: SuziQ
No, they just protected and covered up for the monsters. They are the Joe Paterno's of the Vatican.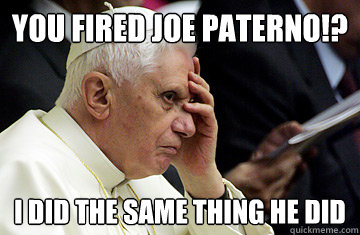 14
posted on
07/05/2012 6:53:15 PM PDT
by
TSgt
(The only reason I have one in the chamber at all times, is because it is impossible to have two in.)
---
To: TSgt
Neither were charged with covering up anything. Cardinal Law was even cleared by the Atty. General of MA, though in his statement, the AG said he wished he COULD have charged Cardinal Law with something.
What's interesting is that there were District Attorneys and Police chiefs who DID know about the abuse in the Boston Diocese in the past, long before Cardinal Law ever set foot in Boston, but who chose not to prosecute the abusive priests. That could have been because two of the priests in question were big Democrat supporters. The Boston Globe never bothered to include that information in their diatribes against the Church.
DO NOT misunderstand my statements. I believe if a priest is accused, he should be removed from access to children, an investigation needs to be done immediately, and if there is sufficient evidence that the accusations are true, he SHOULD be arrested and tried for his crimes. Sadly, one reason many of those cases never came to trial all those years ago, was because the parents of the boys didn't want to put them through a public trial. I believe parents today would be more interested in getting the pervert off the streets.

---
FreeRepublic.com is powered by software copyright 2000-2008 John Robinson