---
Remembering our Honored Dead - June 2012.
Department of Defense. ^ | June 2012 | Department of Defense


Posted on 07/05/2012 7:06:37 PM PDT by PanzerKardinal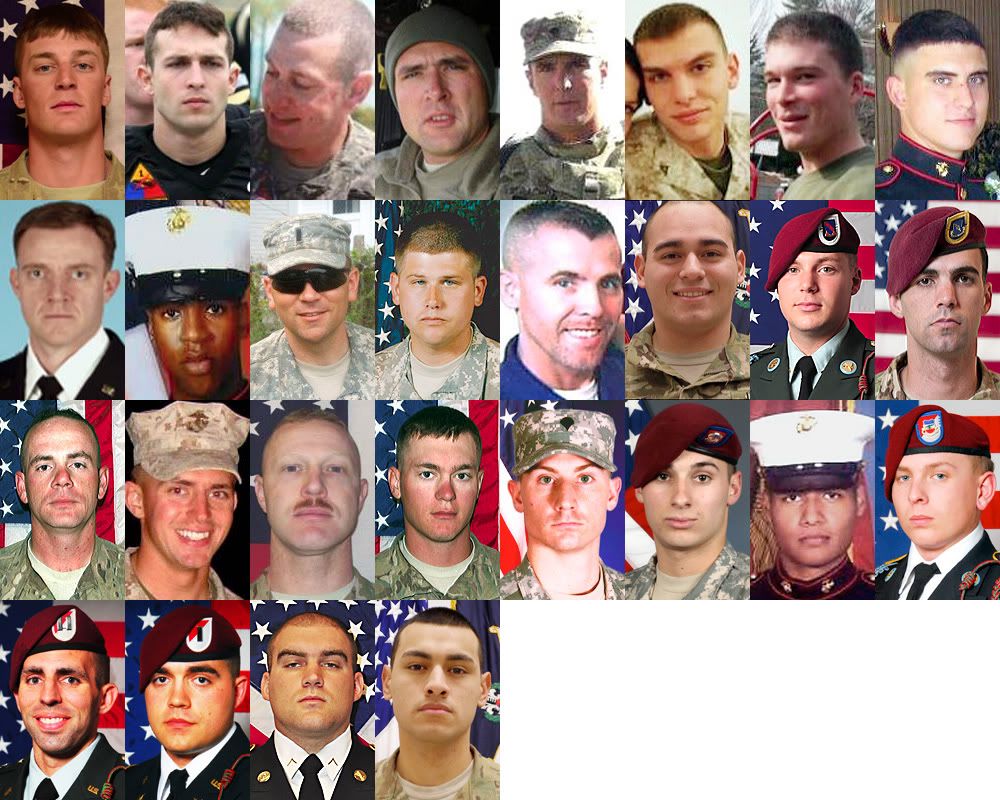 ---
TOPICS: Culture/Society; Foreign Affairs; News/Current Events
KEYWORDS: afghanistan; dead; military

In June 2012, 28 Soldiers and Marines fell in Afghanistan.

These are their pictures and their names.

Sgt. James L. Skalberg Jr.

1st Lt. Stephen C. Prasnicki

Staff Sgt. Matthew J. Leach

Staff Sgt. Robert A. Massarelli

Sgt. Michael J. Strachota

Lance Cpl. Niall W. Coti-Sears

Lance Cpl. Hunter D. Hogan

Lance Cpl. Eugene C. Mills III

Pfc. Steven P. Stevens II

Paul C. Voelke

Spc. John D. Meador II

1st Lt. Ryan D. Rawl

Sgt. 1st Class Matthew B. Thomas

Sgt. Jose Rodriguez

Pfc. Jarrod A. Lallier

Sgt. Nicholas C. Fredsti

Sgt. Joseph M. Lilly

Cpl. Taylor J. Baune

Sgt. 1st Class Barett W. McNabb

Spc. Trevor A. Pinnick

Spc. Bryant J. Luxmore

Pfc. Nathan T. Davis

Cpl. Anthony R. Servin

Pfc. Brandon D. Goodine

1st Lt. Mathew G. Fazzari

Capt. Scott P. Pace

Pfc. Vincent J. Ellis

Spc. Gerardo Campos

Please take some time to remember these honored dead who have given their last full measure of devotion for our country.

Also, please take some time to remember those they have left behind.

---
To: PanzerKardinal
2
posted on
07/05/2012 8:12:34 PM PDT
by
SkyDancer
("Ambition Without Talent Is Sad - Talent Without Ambition Is Worse")
---
To: SkyDancer
3
posted on
07/05/2012 9:13:48 PM PDT
by
Kartographer
("We mutually pledge to each other our lives, our fortunes and our sacred honor.")
---
To: SkyDancer
IBD Editorials
Media Skip 2,000th Afghan War Death On Obama's Watch
Posted 07/05/2012 06:38 PM ET
Media Bias: The latest incident of Afghan forces firing on NATO troops underscores the lack of media attention to an important milestone and the fact that most Afghan casualties have occurred on this president's watch.
We don't expect an apology from the Afghan government of Mohammed Karzai for the latest incident of green-on-blue violence, in which members of the Afghan security force turn on their NATO allies.
But we marvel at the media's relative indifference to things that would be screaming headlines if they happened on the watch of President George W. Bush.
http://news.investors.com/articleprint/617175/201207051838/media-skip-2000-death-afghan-milestone-.aspx
---
FreeRepublic.com is powered by software copyright 2000-2008 John Robinson